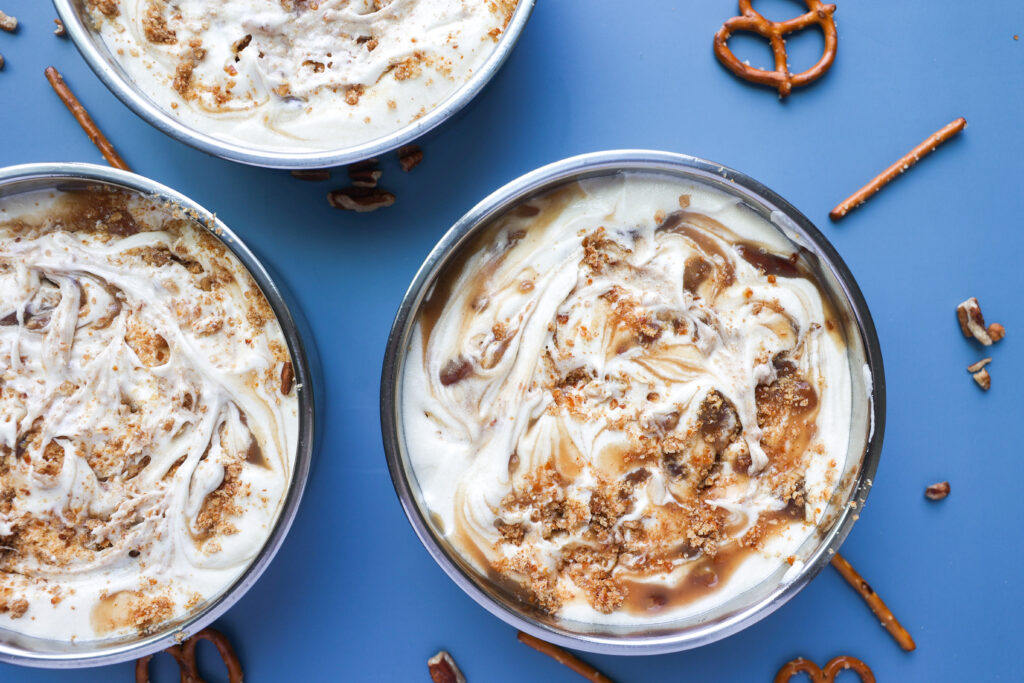 This cake has a pretzel crust, a praline sauce, and even more pretzel crust crumble baked into the cake. For good measure it has even more of the salted praline sauce in between the layers. I couldn't stop testing the components when recipe testing and putting it together. If you follow my instagram you have an idea of how many times tried it.
If you like this cake, you may also really like my Praline Macarons!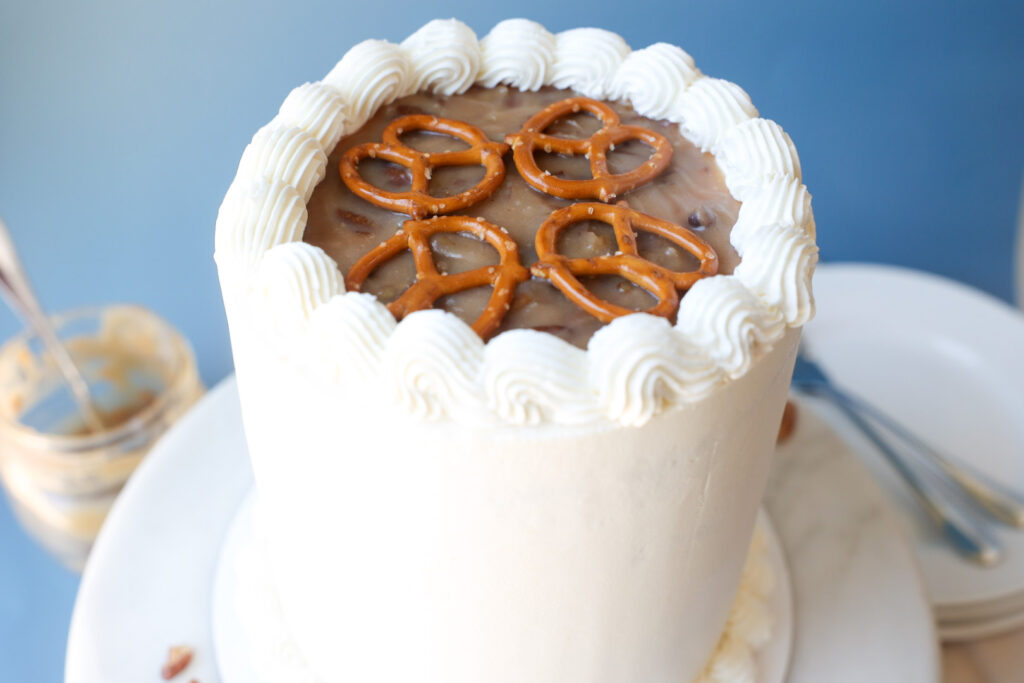 On social media we discussed whether people like to make extra batter or exact. It was close but more people preferred exact so that's what I did for the recipe. If you're in the other camp, just make my usual cake recipe amounts and keep everything else the same.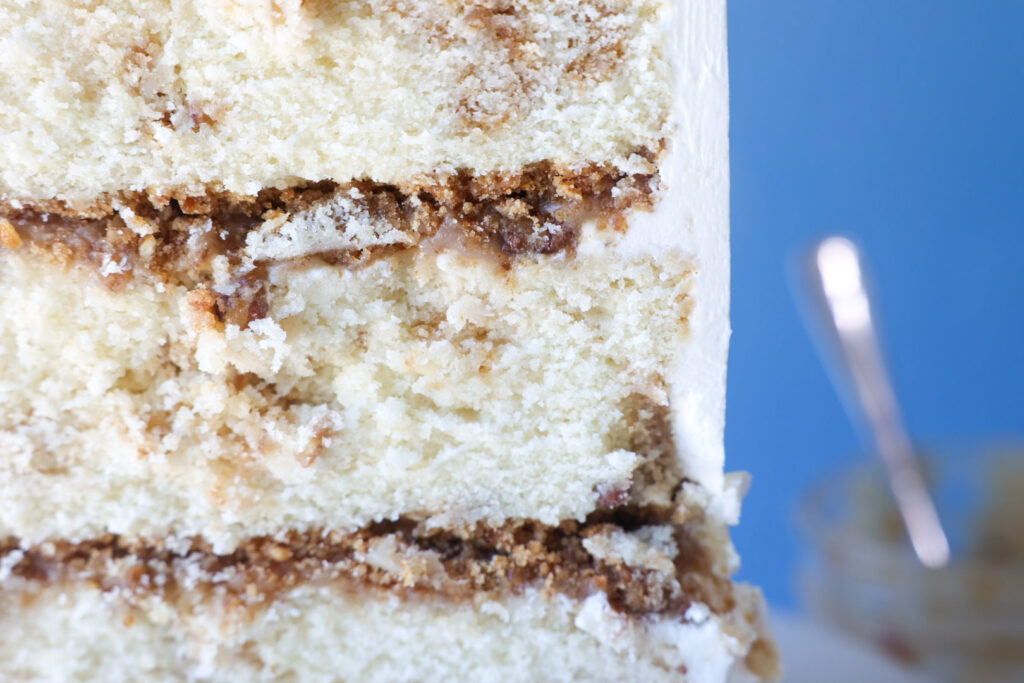 Tools for the cake
You'll need a mixer of some sort with whisk and paddle attachments, a sifter to sift your powdered sugar, cake pans, cooking spray, a bowl, baking foil, parchment paper, and a scale. You can not get around the scale, it is an important baking tool and they are inexpensive at most stores or online. You'll also want some sort of cake board. I usually like to go one size bigger than what I'm making. You can get these at Walmart or craft stores.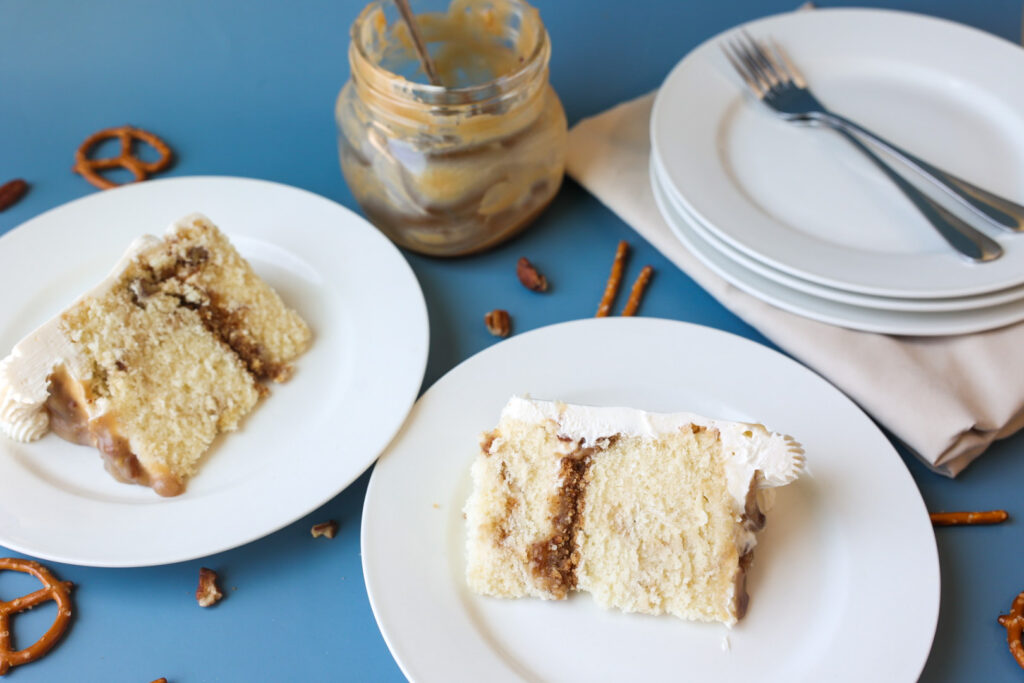 To make the Salted Praline Sauce
You can use the chopped pecans bought at the store. Add them to your sauce pan with the butter and warm them so the pecans toast and the butter melts. Then add everything but the salt and let it come to a soft roll. Stir continuously for 3 minutes while it rolls softly. Then remove it from the heat and let it cool completely. Once its cool stir in the coarse sea salt.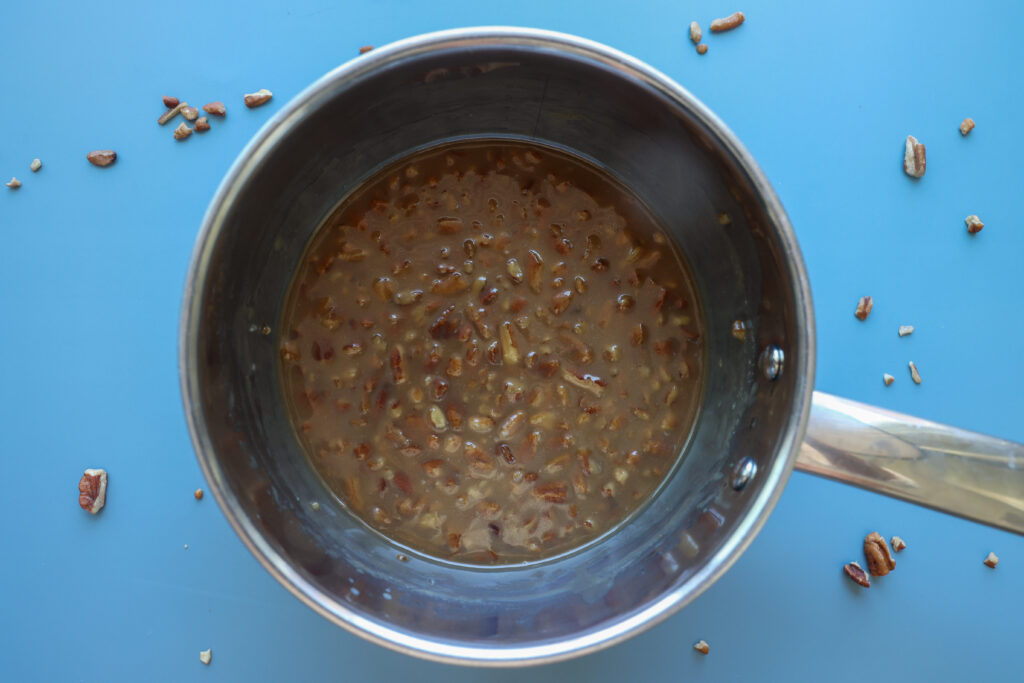 You can make this in advance and store it in the refrigerator. If it's cold before you make your cake slightly warm it in short bursts in the microwave. It should be room temperature when you use it, not hot or cold.
For the Pretzel Crust
Simply chop up the pretzels in a food processor or blender. I chose to leave them slightly coarser. It works well if you make it more dusty too. Then add the sugar and melted butter and combine them. Make sure to distribute the sugar evenly.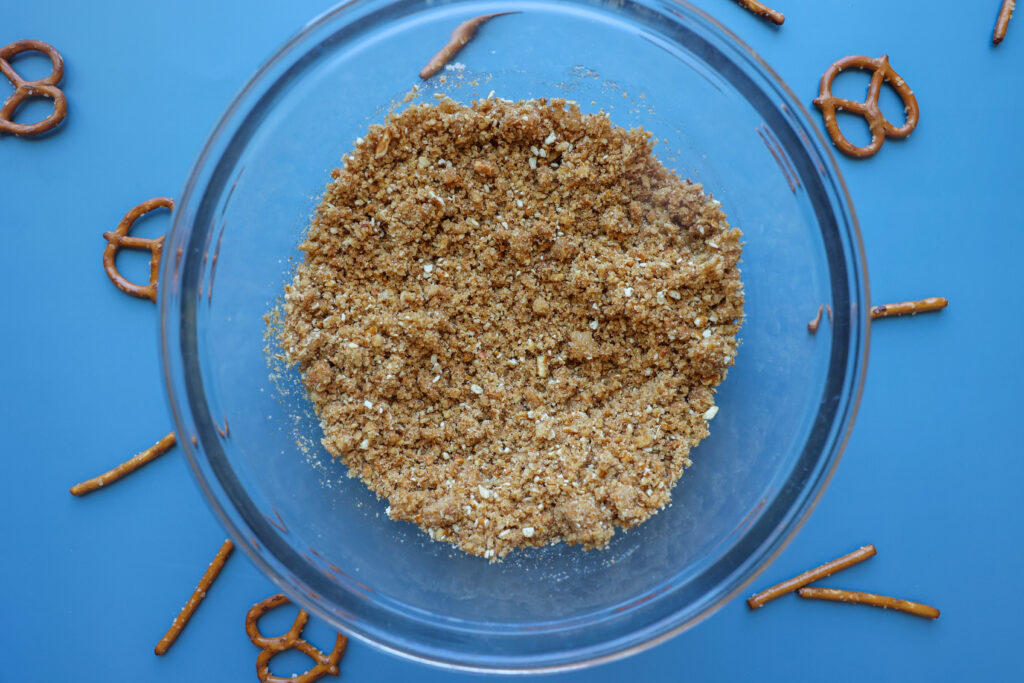 In prepared pans you'll put 1/2 cup of the pretzel mixture into them and compact it with the bottom of a cup. You'll bake the rest on a regular tray so you can add bits of it into the cake batter.
For the cake layers
We're just making a reduced version of my regular batter where we use the reverse creaming method. If you want to know more about why I do this, read the post on the recipe page for it.
Once it's made, you'll divide it into prepared pans evenly using a kitchen scale. Now for the fun part. You make little divets with a spoon in your batter and spoon in some salted praline sauce, then marble it in with a butter knife. Once it's marbled you can add some of the extra baked pretzel crust bits and push them into the batter a bit.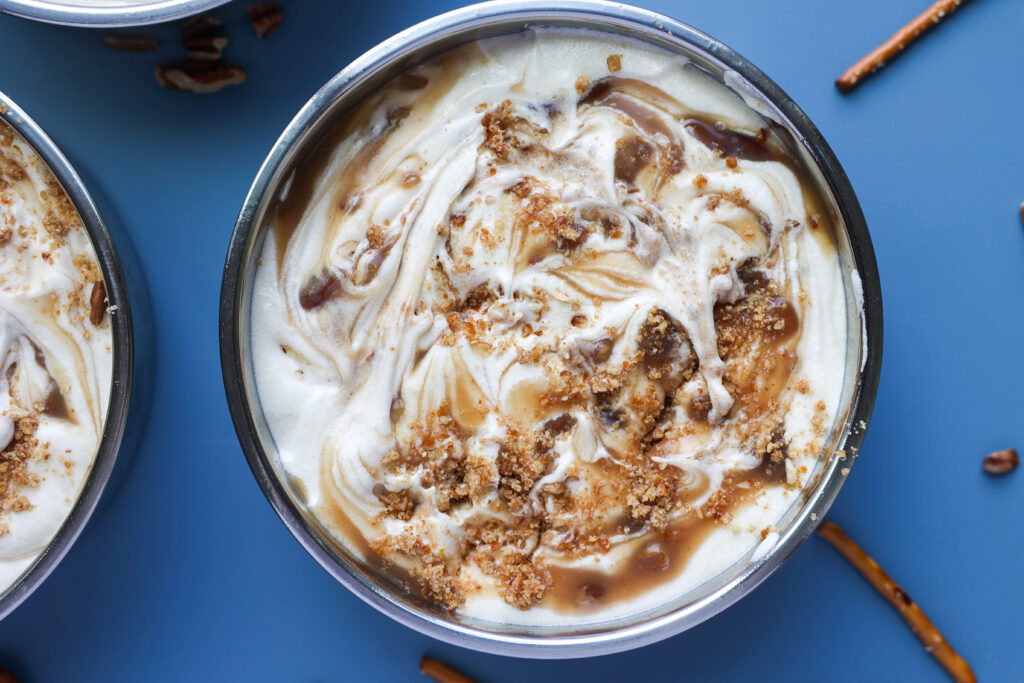 Its helpful to cover your layers in aluminum foil before baking at 330 degrees for about 60 minutes. Bake them until they're done, you can check by sticking a toothpick in the center. If it comes out clean it's done.
Let them cool on a cooling rack and as soon as they're cool enough to handle gently take them out of the pans so that the crust on the bottom doesn't steam.
You'll want them to cool completely before moving on to decorating.
For the buttercream
This is my usual faux Swiss meringue buttercream. I chose not to do anything extra with this because the cake flavors are already very rich! Very.
Assembly of the cake
You do not want to skip the crumb coat on this one because it is very crumby. Stack and crumb coat it then put it in the fridge to firm up for 15-20 minutes. This will lock in the crumbs so that your final layer of buttercream can be smoothed nicely.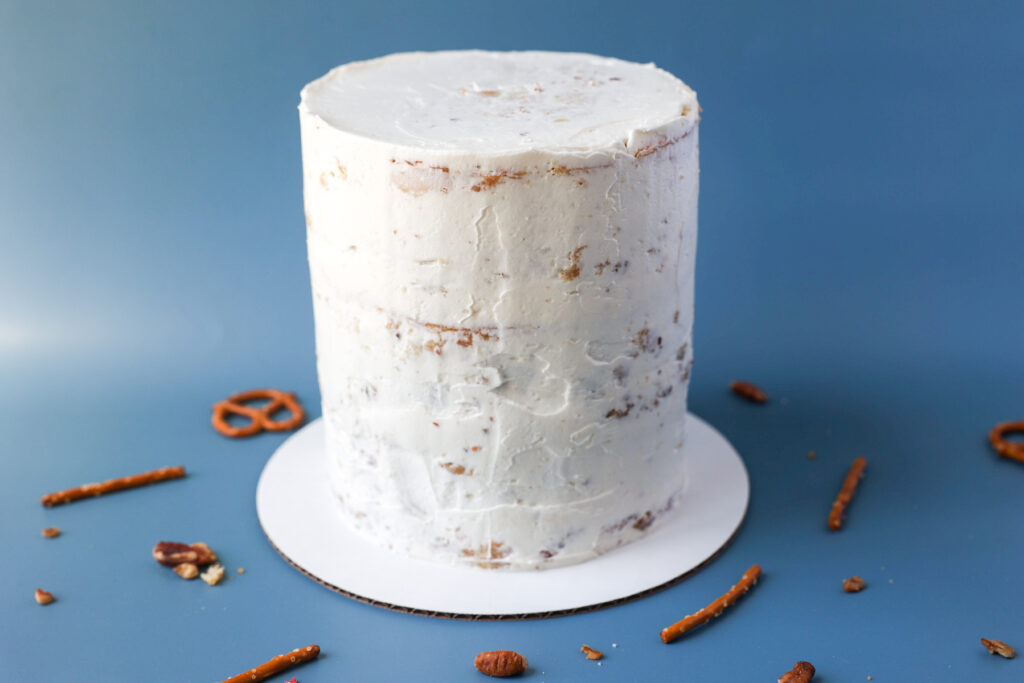 Do your final coat of buttercream and smooth it. I chose to make a small well on the top to add more praline sauce and pretzels. I added a scallop design with a wilton 4B tip.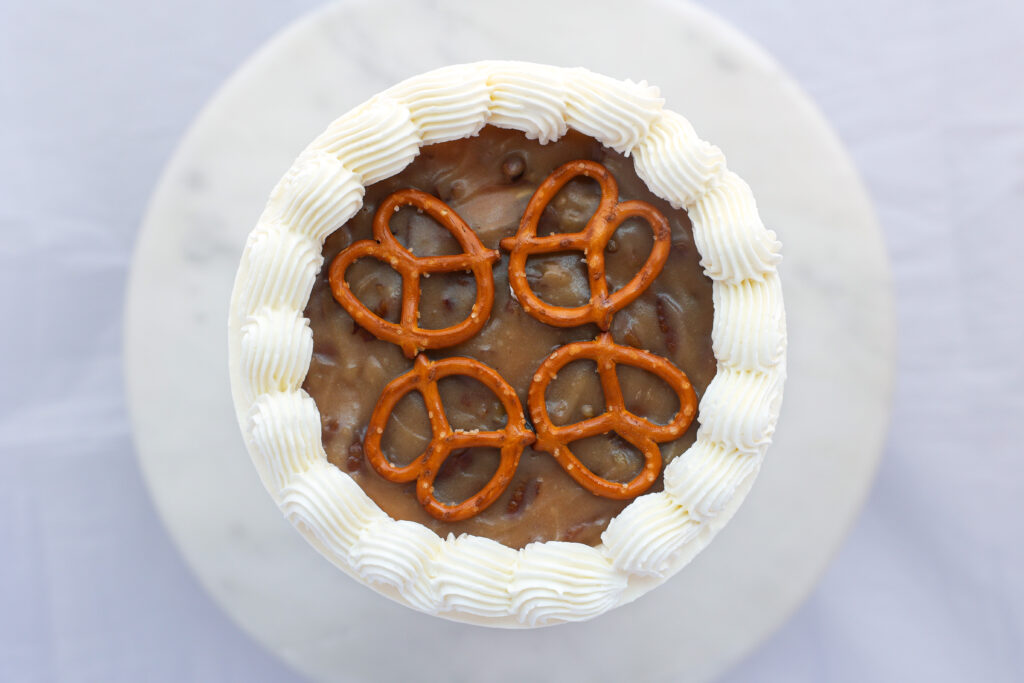 If it is not going to be eaten right away, it can be stored in the refrigerator until a little before you plan to cut it. If you have left over cake slices you can individually wrap them and freeze them for later. That's my favorite thing to do with extra cake.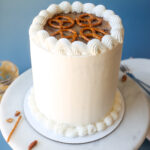 Print Recipe
Pretzel Praline cake
A sweet and salty cake with praline sauce and pretzel crust
Equipment
mixer with whisk and paddle attachments

bowls

spatula

kitchen scale

3 6 in cake pans

cake board

sifter

food processor or blender

baking sheet
Ingredients
Salted Praline Sauce
1/2

cup

chopped pecans

1/4

cup

unsalted butter

3/4

cups

brown sugar

3/4

cups

heavy cream

1

tsp

Vanilla

1/2

tsp

course sea salt
Pretzel Crust
150

g

original pretzels

1/4

cup

sugar

1/2

cup

butter, melted
Cake Layers
325

g

all purpose flour

1

tsp

salt

2.5

tsp

Baking Powder

475

g

sugar

3/4

cups

butter, softened

3

eggs, room temp

295

g

buttermilk, room temp

1

TBS

Vanilla extract
Faux Swiss Meringue Buttercream
6

oz

carton egg whites

24

oz

confectioners sugar

18

oz

unsalted butter, softened

1

tsp

salt

1

TBS

vanilla extract
Instructions
Salted Praline Sauce
Put chopped nuts and butter into a small-medium sauce pan.

Allow the nuts to toast and the butter to melt over medium high heat for a couple minutes.

Once the nuts are toasted and the butter is melted add the brown sugar, cream, and vanilla and stir to combine.

Turn the heat down to medium and allow it to come to soft roll. Continue stirring while it softly rolls (you may need to adjust temp) for 3 minutes.

Remove it from the heat and let it cool completely. As it cools it will thicken.

Once cool, add the course sea salt and stir to combine.
Pretzel crust
Preheat the oven to 330 degrees.

Put the pretzels in a blender or food processor. Process until uniformly small and crumbly, like a thick sand texture.

Add in the melted butter and sugar and stir well to combine.

Using three 6 inch cake pans, prepare them with baking spray and parchment in the bottom.

Scoop 1/2 cup of the pretzel mixture into each cake pan and press it flat into the bottom of the pan with the bottom of a cup.

Prepare an extra tray with parchment and put the rest of the pretzel mixture on it and press it flat. Bake it for 8 minutes.
Cake Layers
Combine the room temp buttermilk, eggs, and vanilla in a bowl. Mix it to break up the eggs and set it aside.

Put the flour, sugar, salt, baking powder in the bowl of your mixer. Let that combine in your mixer with the paddle attachment.

Add the softened butter and turn it on low for about 1 minute or until your dry mixture looks like a coarse sand texture.

With your mixer on low add about 1/2 of the wet mixture (just enough to make the whole mixture wet and look like a cake batter, not cookie dough). Let that mix on medium for 2 minutes. This is a part of the reverse creaming method. Don't go over or under 2 minutes. You want to develop structure for your cake but not develop the gluten because that will give you a tough cake.

After 2 minutes stop and scrape your bowl, turn it back on low and add the rest of the wet mixture. Let it combine 10-15 seconds or until combined. Scrape your bowl and make sure it's mixed evenly.

If the sides of your baking pans look like the baking spray ran down from sitting, quickly give them a spritz of baking spray trying not to coat your pretzel crust with it.

Divide your batter evenly among your pans, about 15 oz each.

Make 4-5 divets in the batter with a spoon and quickly spoon in some of the praline sauce. Marble that with a butter knife going back and forth a couple of times.

Add a bit of the left over pretzel crust and push it down a little into the batter with a spoon or knife.

Cover your cake pans with aluminum foil, and bake them at 330 degrees for about 60 minutes, or until done. Check to see if they are done by inserting a toothpick into the center of the cake. If it comes out dry it is done.

Once the cakes are done allow them to cool on a cooling rack for about 10 minutes or until the pans are cool enough for you to handle.

The pretzel crust will stay together best if removed earlier (so they don't steam). Once the pans can be handled, carefully run a knife around the edge (the sauce can cause it to stick some). Be careful when running your knife along not to break up the crust on the bottom. Carefully remove the cake from the tins and allow them to come to room temp on cooling racks. It's ok if a little of the crust on the edge breaks off, it's bound to happen. The cake must be fully cooled to move on to the next part. You may want to wrap them in plastic wrap and decorate the next day or freeze, then decorate when you're ready.
Buttercream
Weigh out the egg whites in the bowl of your mixer

Sift the sugar into the bowl.

With the whisk attachment on, start on low and slowly increase it to high in your mixer. Mix for 6 minutes.

Change your whisk attachment out for your paddle attachment.

Turn the mixer on low and add 1 stick of butter at a time. Don't worry if it looks strange to start out it will all come together after it mixes for a while.

Add your salt and flavoring.

Let it mix on low for 10 minutes.
To assemble
On a cake board, put a small dollop of buttercream and put the cake crust side down on the board.

Smooth buttercream on the top, and make a well with your offset spatula. Put some praline sauce in the well making sure not to put too much, you do not want it to seep out.

Add another cake layer and repeat.

Add the last cake layer, seal the sides and coat the whole cake in a thin layer of buttercream to lock in any crumbs. Refrigerate that for about 15 minutes before your final coat of buttercream.

Add your final layer of buttercream, smooth and decorate it as you wish. I chose to make a well on top and put more praline sauce and pretzels on mine. I used wilton tip 4B to make a scallop rim on the top and bottom.