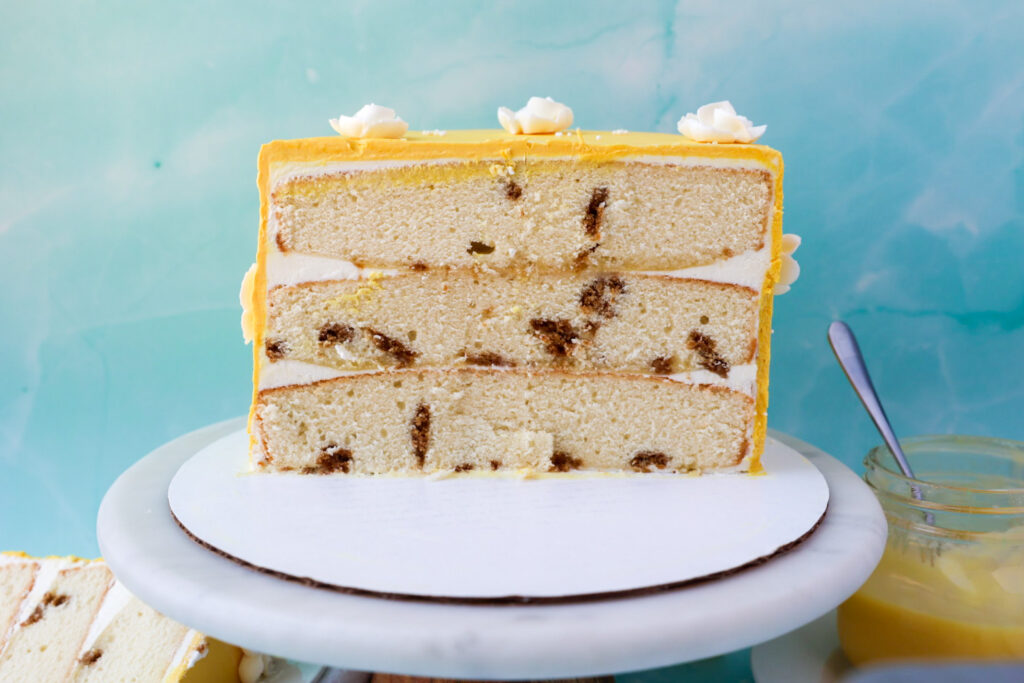 This cake has moist and fluffy coconut cake layers with coconut cookies baked into it with sweet and tart pineapple curd between the layers. For good measure it's finished with coconut Swiss meringue buttercream.
If you like this cake, you may also like my Coconut and Pineapple Curd Macarons!
Tools for the cake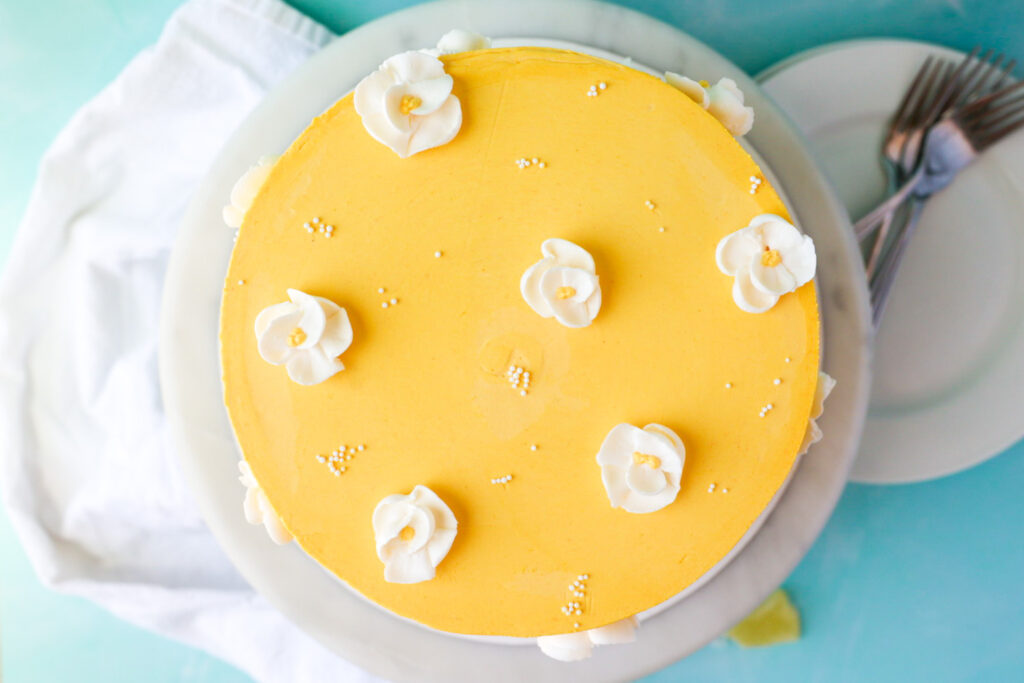 You'll need a mixer with whisk and paddle attachments, cake pans, cooking spray, a bowl, baking foil, parchment paper, a sifter to sift your powdered sugar, and a scale. You can not get around the scale, it is an important baking tool and they are inexpensive at most stores or online. You'll also want some sort of cake board. I usually like to go one size bigger than what I'm making. You can get these at Walmart or craft stores. If you'd like to make the little flowers you will want a curved tear drop shaped piping tip and piping bags. I also used white nonpareil sprinkles.
For the cake layers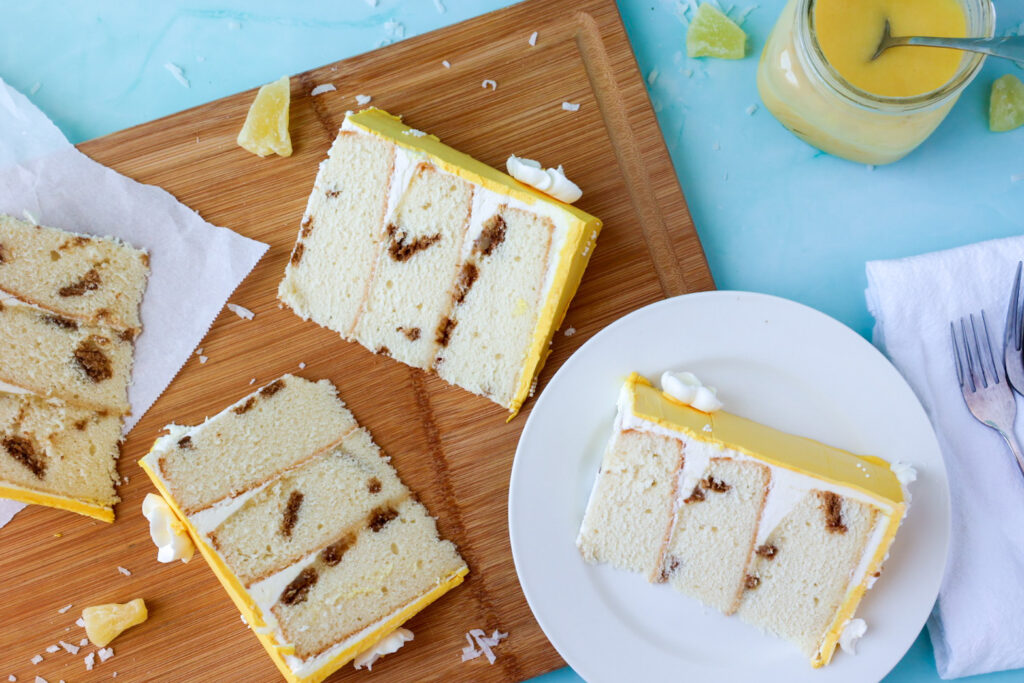 The cake batter is made from my usual versatile cake recipe with coconut flavoring and coconut flavored biscuit cookies for added texture. It's just so fun to cut into a cake and see something extra in the cake layers. The cake is made with the reverse creaming method, it produces a nice flat cake with a tight crumb. All the flour gets coated in fat first and it makes for a very delicious moist cake!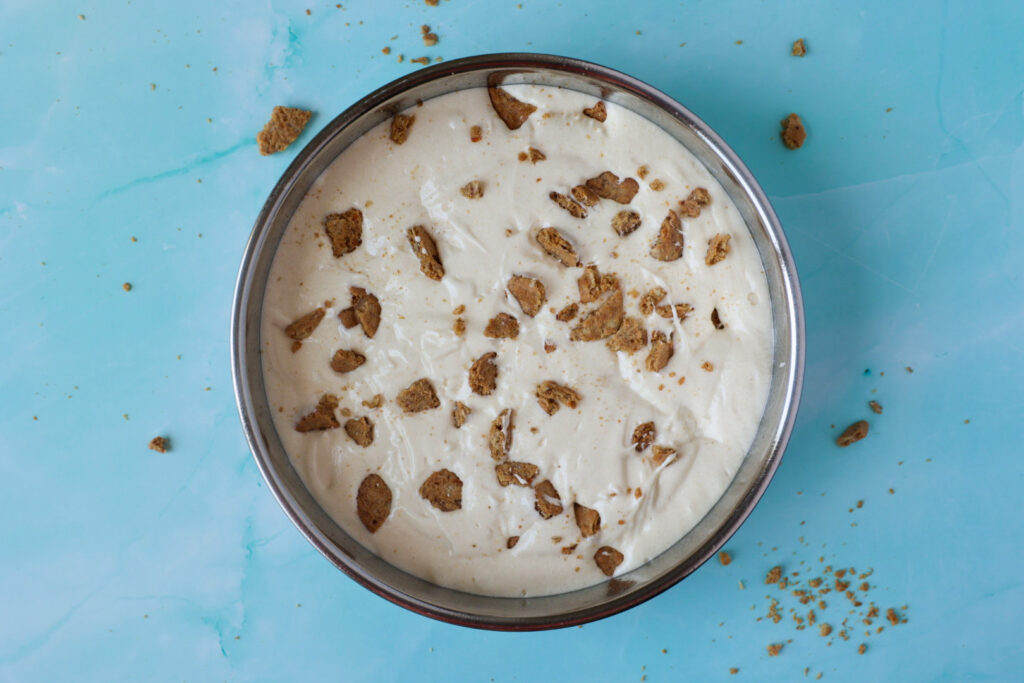 Once you've made your batter you'll cut up some coconut flavored biscuits if you'd like to include them. The only purpose for these was for the slices to have a little something special when sliced. Put those on top and push them down a bit, cover with foil and bake them off!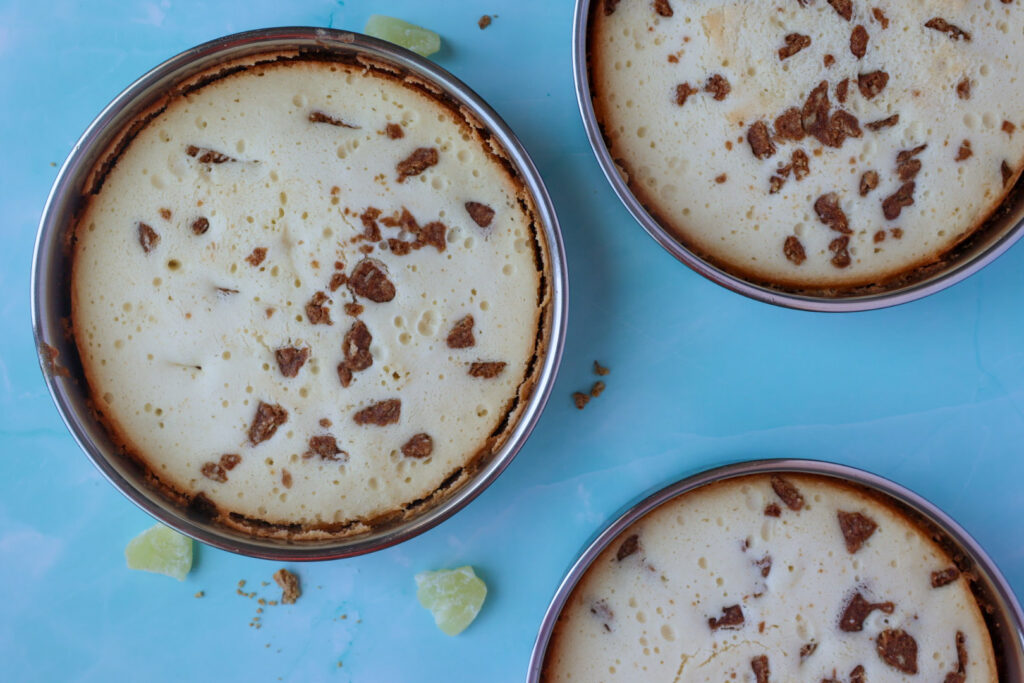 For the pineapple curd
Between the cake layers is a pineapple curd that I had to test a few times. Definitely do not leave out the lemon juice. It makes a huge difference. Without it, it becomes way too sweet. The tang from the lemon is very important.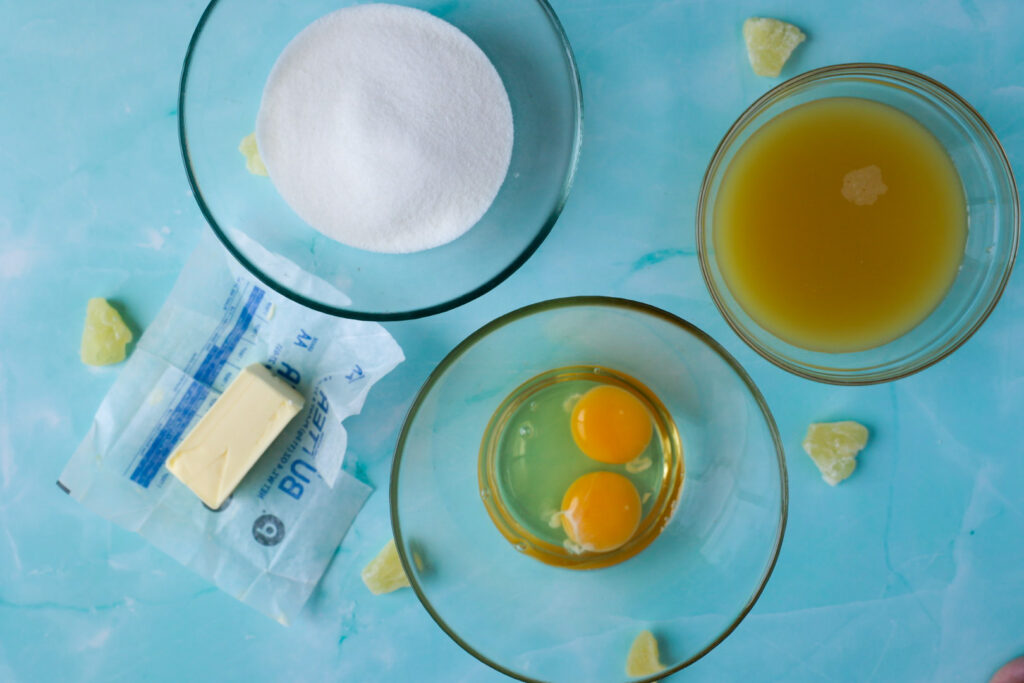 You'll put all but the eggs in a sauce pan, turn it to medium low heat stirring until the sugar is totally dissolved. It does not need to get super hot just warm enough to dissolve the sugar. Then in a separate bowl you'll whisk your 2 eggs. You will temper the eggs by very slowly adding small amounts of the hot liquid while whisking. Once a little more than half of the mixture has been mixed and the egg mixture feels warm you can add it all to the sauce pan. Constantly whisk the mixture for 3-5 minutes until the mixture thickens, once it's thickened remove it from the heat to let cool. Once cool store it in an airtight container in the refrigerator until ready to use.
If it got too warm too fast you may see some bits of cooked eggs. It's not totally ruined just strain it. If there is a lot, you may want to try again.
For the buttercream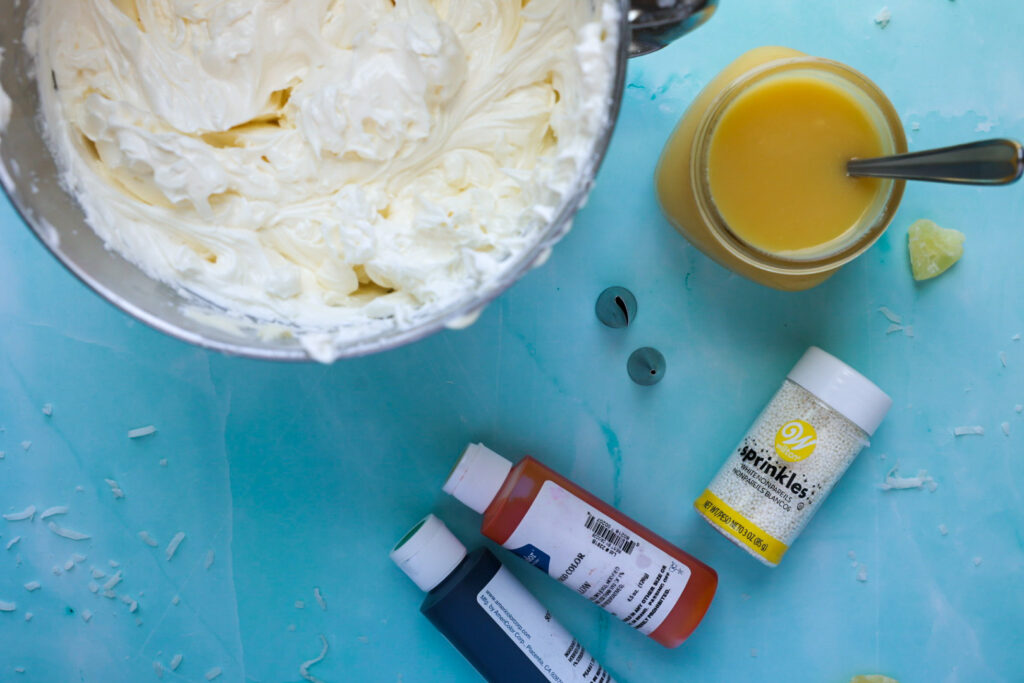 I used my faux Swiss meringue buttercream and flavored it with coconut.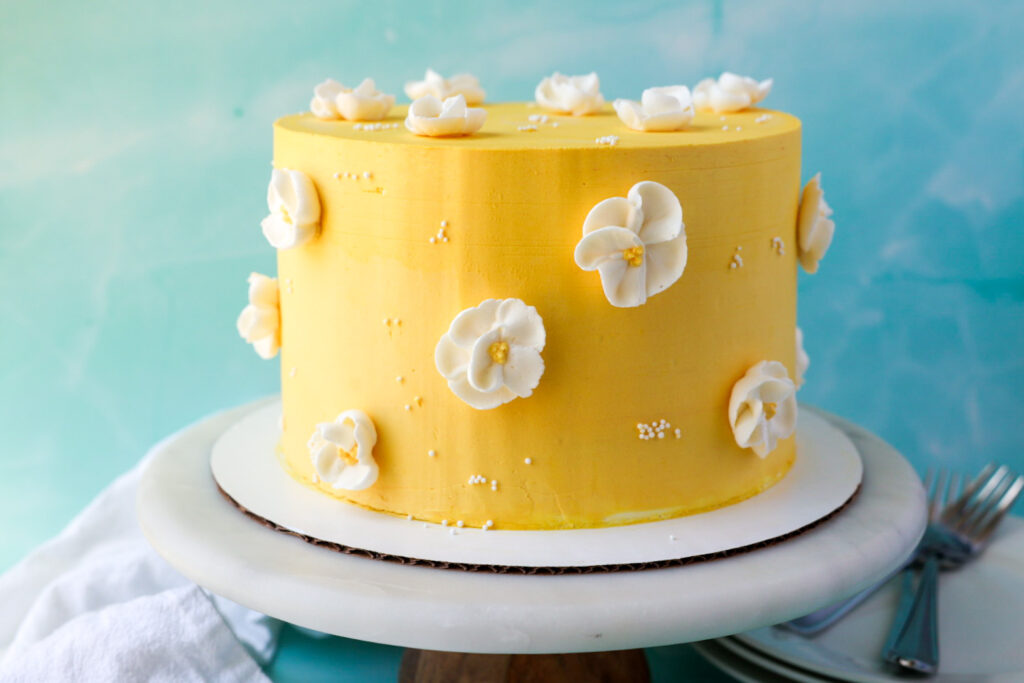 I used Americolor lemon yellow and a tiny bit of crimson to color it. I wanted to color the cake to reflect the flavor, I chose yellow and white. Personally, I'm not a fan of coconut flakes or candied pineapple so I made simple buttercream flowers and decorated it with that. I have multiple videos showing how to make these on my instagram and TikTok.
Assembly Tips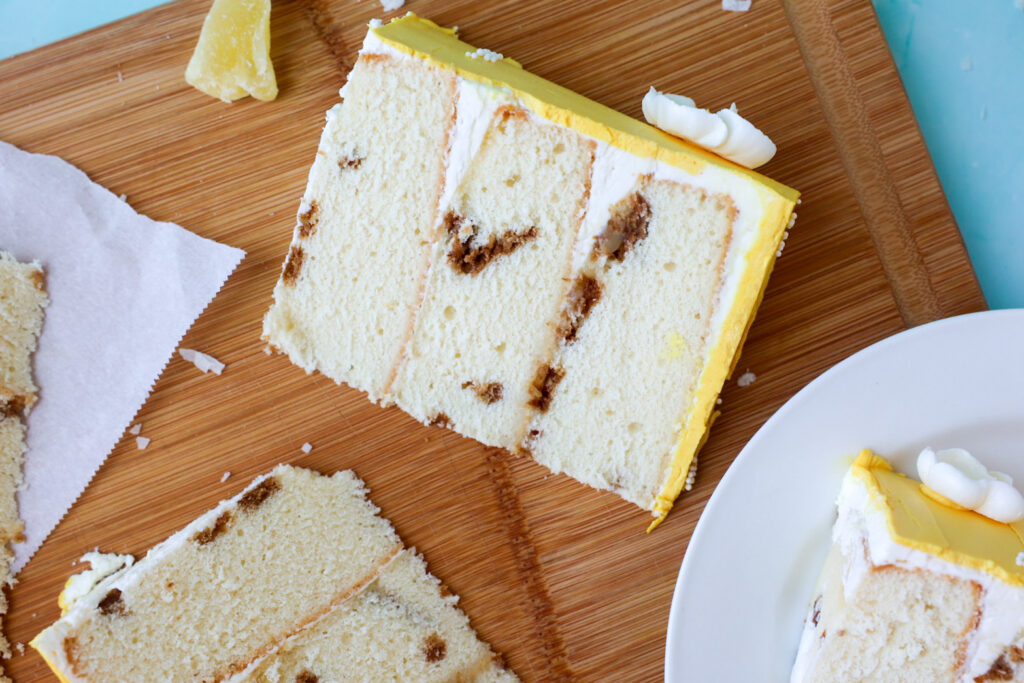 For the assembly of this cake it's important to have flat layers, so trim any dome, and to also decorate your cakes from frozen. Both of these steps will help reduce chances of the pineapple curd seeping out of the sides. Don't ask how I know. Definitely, pipe a rim between the layers on this one to hold in the curd.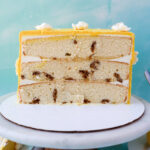 Print Recipe
Coconut and Pineapple Curd Cake
White fluffy coconut cake with coconut cookies and pineapple curd.
Equipment
mixer

with paddle and whisk attachments

kitchen scale

bowls

spatulas

sauce pan

whisk
Ingredients
Cake Layers
430

g

all purpose flour

1

tsp

salt

1

TBS

baking powder

630

g

Sugar

1

cup

unsalted butter, softened

4

eggs, room temp

395

g

buttermilk, room temp

1.5

TBS

coconut extract

2

packs

coconut biscuits from Belvita (8 biscuits)

optional
Pineapple Curd
1/4

cup

pineapple juice

juice of 1 lemon

2

TBS

unsalted butter

1/2

cup

sugar

2

whole

eggs
Coconut Swiss Meringue Buttercream
6

oz

pasteurized egg whites

24

oz

confectioners sugar

18

oz

unsalted butter, softened

1

tsp

salt

1

TBS

coconut extract
Instructions
For the cake layers
Preheat the oven to 330 degrees.

In a bowl combine buttermilk, eggs, and extract. Mix to combine and break up the eggs.

In the bowl of your mixer combine the flour, sugar, baking powder, and salt.

Combine the mixture with the paddle attachment in your mixer to distribute the ingredients.

Add the softened butter and allow that to mix making a coarse sand like texture, about 1 minute.

With your mixer on low, add around half of your wet ingredients. You really just want to add enough liquid so that everything is a little wet without forming a dough texture, it should resemble cake batter. Then turn it to medium and let it mix for 2 minutes. Set a timer and do not go over. This helps develop the structure of the cake, without over mixing.

Scrape your bowl after the 2 minutes. With your mixer on low add the rest of the wet ingredents. Mix just until totally combined, about 15 seconds. Scrape the bowl again if needed.

Prepare the pans by spraying with baking spray and lining the bottom with parchment paper.

Divide the batter evenly between 3, 8 inch pans. I used about 21 oz per pan.

Cut up your biscuits if you plan to add them. Divide them into even piles and distribute them over the cakes, pushing them down into the batter some with a utensil.

Cover the cakes with aluminum foil and bake for 60-70 minutes or until done. They are done once they start to pull away from the sides of the pan or a toothpick inserted in the center comes out clean.

Allow the cakes to cool on a cooling rack until the pan is cool enough to touch. Remove the cakes from the pans and let them cool completely before wrapping in plastic wrap to freeze or to decorate.
For the pineapple curd
Add all the ingredients except for the eggs to a sauce pan and put over medium low heat to begin melting down the sugar and butter.

Crack your eggs into a bowl, whisk to break up and set aside.

Once your sugar has completely dissolved in the pineapple juice you will temper the eggs with it.

To temper the eggs, while whisking, add small amounts of the warmed liquid. Go very slow so you do not cook the eggs.

Once half of the liquid has been introduced it can all be transferred back into the pan on medium low heat.

Allow this to cook for 3-5 minutes while whisking the mixture.

Once it has thickened remove it from the heat. Allow it to cool and store it in an airtight container in the fridge until you're ready to use it. It will thicken as it cools.
For the buttercream
Weigh out the egg whites in the bowl of your mixer and sift the sugar into it.

With the whisk attachment on your mixer, turn it to low, slowly increasing it to high and let it whip for about 6 minutes.

Change out the whisk attachment for the paddle.

Turn the mixer on low and add your butter in a stick at a time until it is all in.

Add your salt and coconut extract.

Let the mixture mix for 10 minutes on the lowest setting.
For assembly
On a cake board, put a small dollop of buttercream and put the cake top side down on the board.

Smooth buttercream on the top, and make a well with your offset spatula. Pipe an additional rim around the outside of the cake to hold in where the pineapple curd will go.

Put some pineapple curd in the well making sure not to put too much, you do not want it to seep out.

Add another cake layer and repeat.

Add the last cake layer, seal the sides and coat the whole cake in a thin layer of buttercream to lock in any crumbs. Refrigerate that for about 15 minutes before your final coat of buttercream.

Add your final layer of buttercream, smooth and decorate it as you wish.

I chose to pipe small white flowers with a flower piping tip and stick them on with more buttercream and add white nonpareil sprinkles.