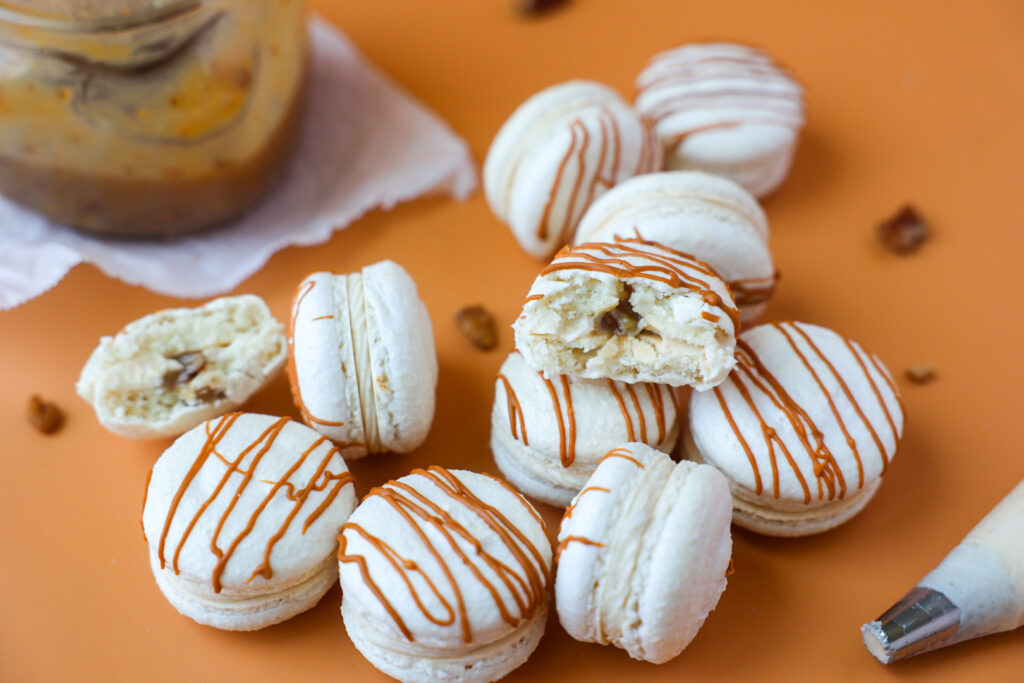 These macarons have a sweat and salty praline sauce center, circled with a caramel buttercream. The shells are crunchy on the outside and soft on the inside and they are pure decadence.
If you like these macarons, you may really like my Pretzel and Praline Cake!
Tools You'll Need
To make the shells you'll need a mixer with a whisk attachment, sifter, kitchen scale, baking pans with mats or parchment paper, oven thermometer, wilton tip number 12. For the praline sauce you'll need a sauce pan and spatula. The caramel buttercream is made in a bowl with a whisk and spatula. For the assembly, some piping bags are very useful.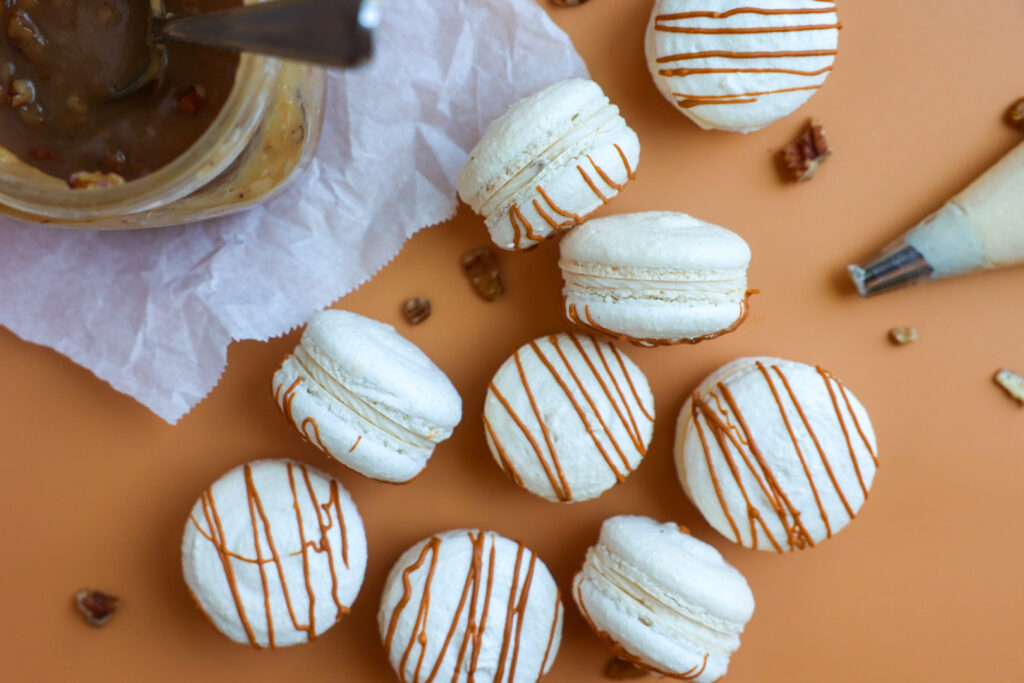 For the Shells
You will need to make macaron shells. If this is the first time you're making macarons I suggest you read through my whole post on my macaron shell recipe post. I'll leave that link there for the shell recipe and here we will go into the praline sauce and caramel buttercream.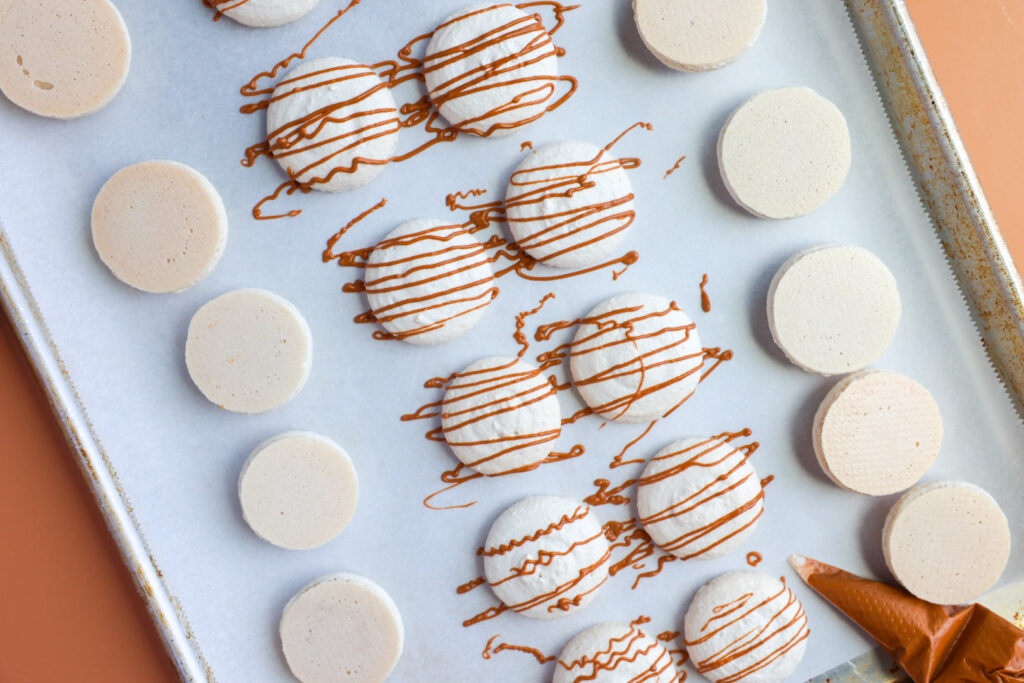 For the Praline Sauce
The Praline sauce comes together very simply. You can use the chopped pecans bought at the store. You will need to chop them up even smaller, you do not want large chunks in your filling because it won't come out of a piping bag and it will be hard to seal your shells. Add them to your sauce pan with the butter and warm them so the pecans toast and the butter melts. Then add everything but the salt and let it come to a soft roll. Stir continuously for 3 minutes while it rolls softly. Then remove it from the heat and let it cool completely. Once it's cool stir in the coarse sea salt.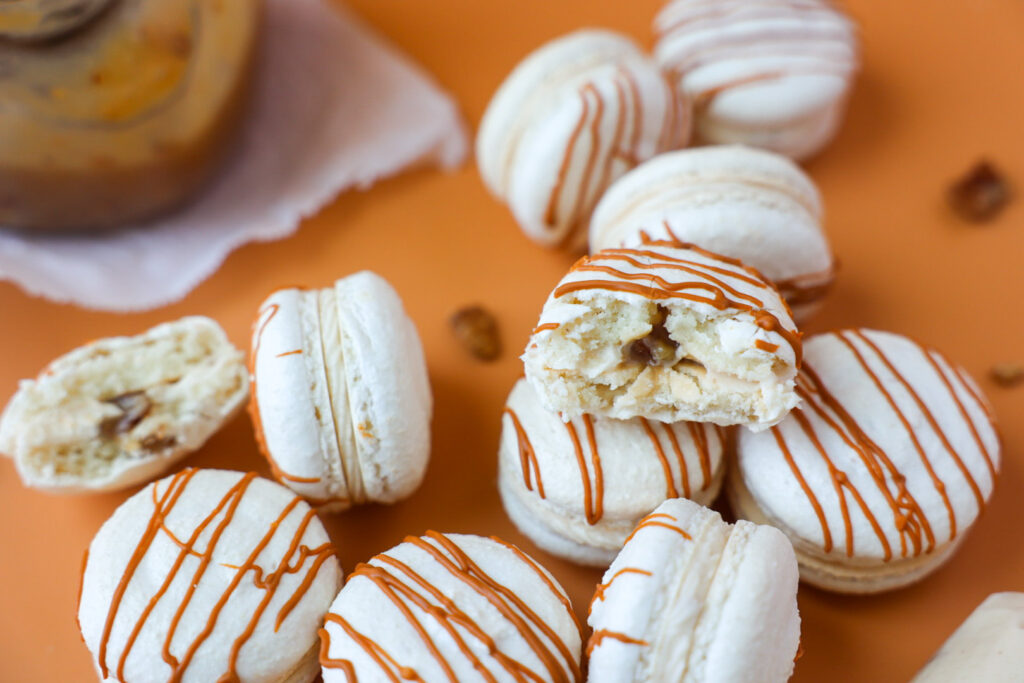 For the Caramel Buttercream
We only need a small amount of buttercream, because we just need to make circles in our shells so we will just make this in a bowl. Scoop out some caramel from your sauce trying to avoid nuts, it's ok if you catch some since you cut them small. Put the softened butter in a bowl and whisk it around quickly until it seems lighter in color and smooth. Put the sugar in 1/2 cup at a time and mix it in with a spatula. My butter seemed extra soft and needed more sugar than anticipated. It will need 1/2 cup to 1 cup of sugar. Then add the heavy cream and mix it together with a spatula until it's the consistency that you like. I bagged mine up with a small French tip with lots of little teeth, though it's not necessary, you can just cut the tip off a bag.
To Decorate and Assemble
Match your shells into pairs trying to make sure the pairs are even. Arrange them on a tray lined with parchment so that in each pair 1 shell is facing up and one is down. Keep the ones you're going to drizzle in the center.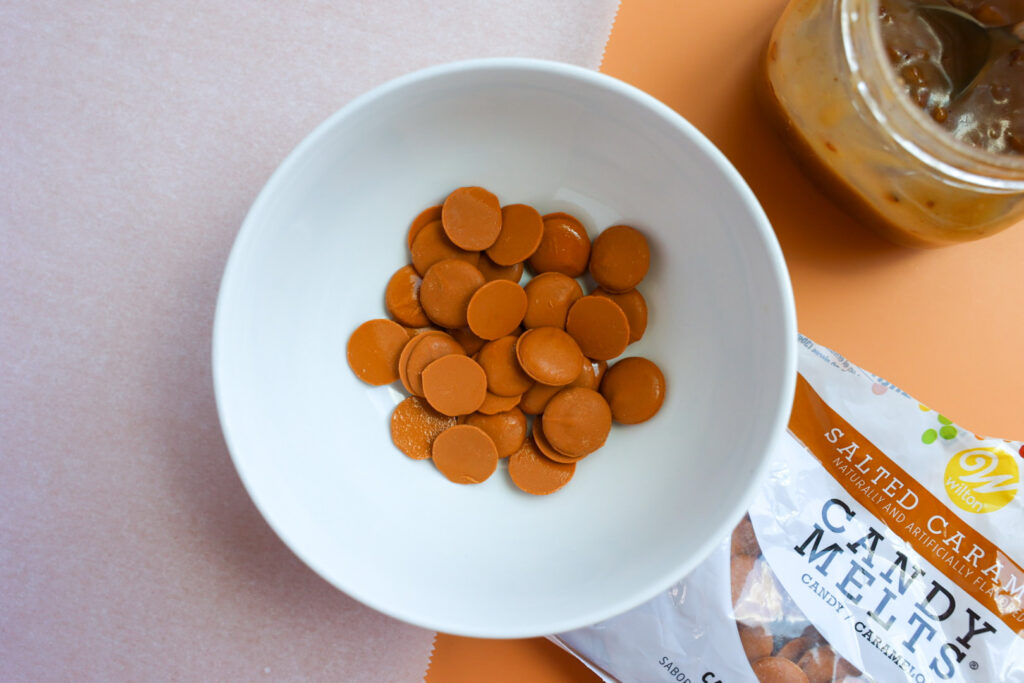 Melt down some salted caramel candy melts from wilton. You can find these where you buy cake supplies at Walmart or craft stores. Stir it well and make sure it's smooth before putting it into a piping bag. Snip a small hole of the tip of the bag and drizzle the tops. You can set them in the fridge for a couple minute to harden the candy.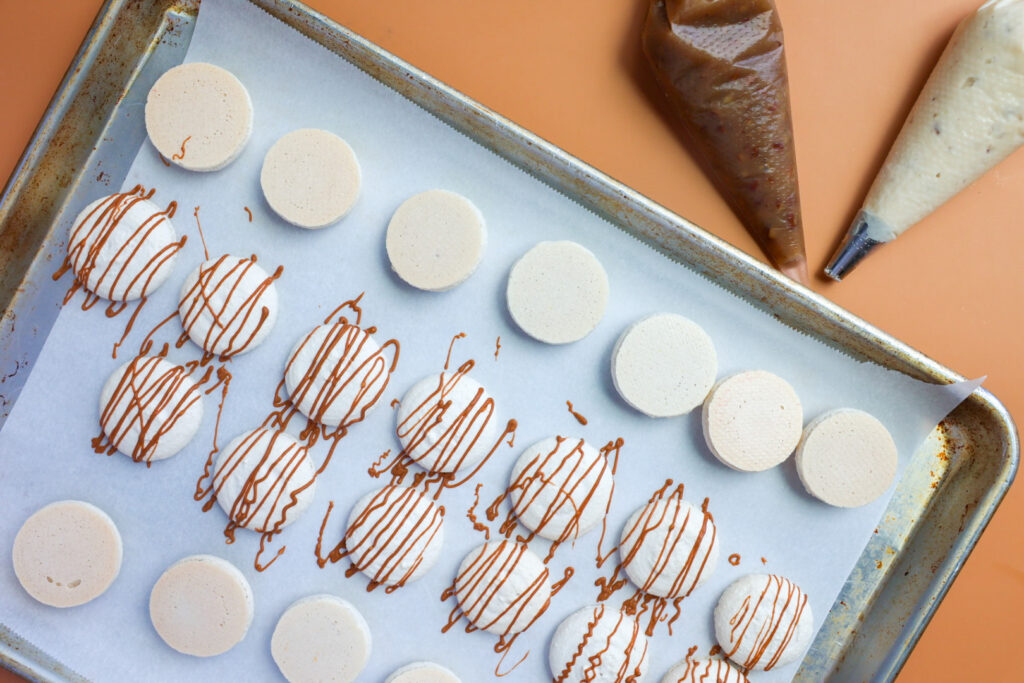 If you haven't already, bag up some praline sauce, and your caramel buttercream. Next you'll pipe a ring of buttercream around the edge of your shells. You want your ring to be somewhat tall because your filling has nuts and the shell needs to seal shut.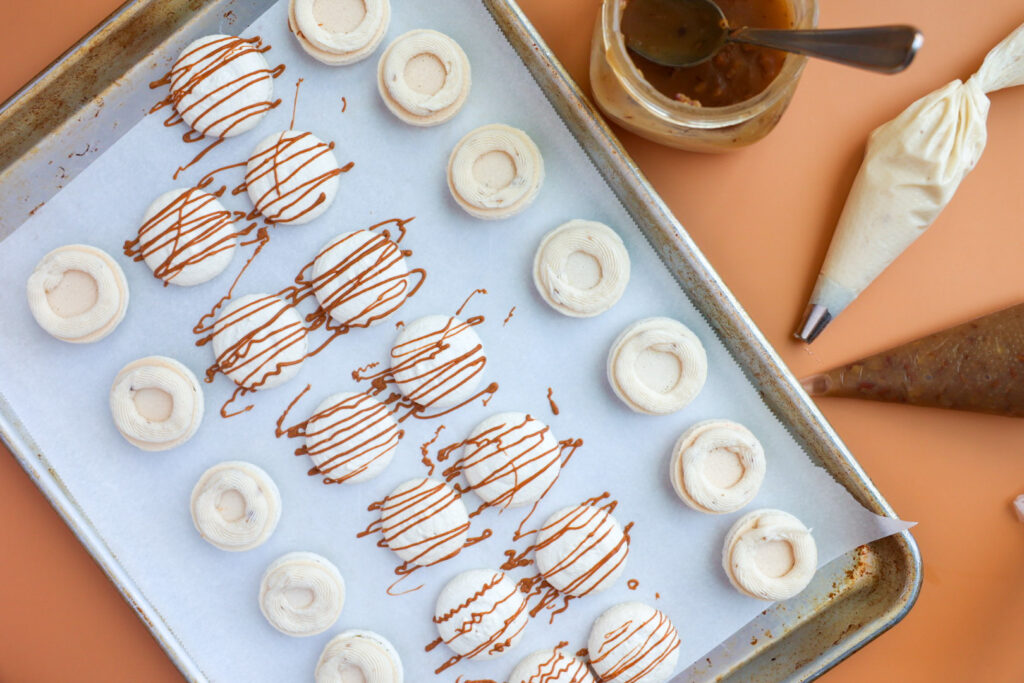 After your buttercream rings are done, snip a hole in your bag of praline sauce. Make sure it's big enough the nuts won't clog it. If they do, don't squeeze to get it out because you don't want the bag to burst over your macarons. Hold the bag over your praline sauce container and pinch the nut out of the bag. Or cut a larger hole if needed. Fill the centers with praline sauce. Do not overfill.
Once they're filled, close them up. If you're having trouble closing your macarons because your nuts are too big, you could add more buttercream to your ring, or push in the bottom of the shell you're putting on top to make some space. Put them in an airtight container and let them mature in the fridge for 24 hours if you have any self control. I don't.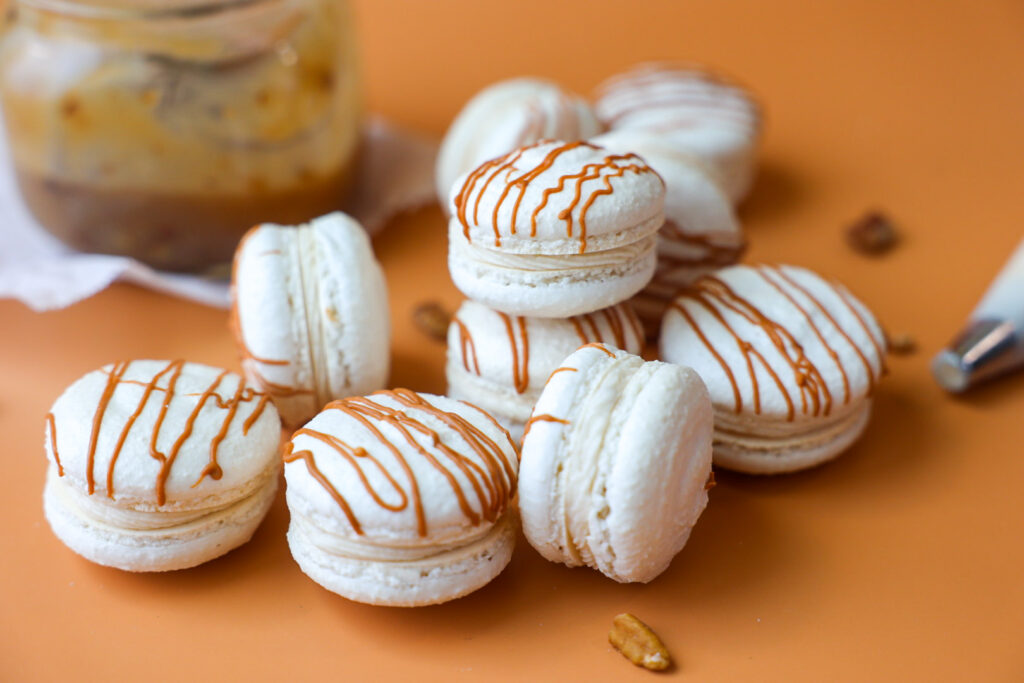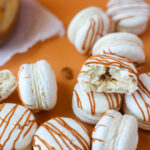 Print Recipe
Praline Macarons
Macarons with carmel buttercream and a sweet and salty praline center
Equipment
mixer with whisk attachment

kitchen scale

oven thermometor

sifter

aluminum baking pans

macaron mats

bowls

spatulas

whisks

piping bags
Ingredients
Salted Praline Sauce
1/4

cup

chopped pecans

2

TBS

unsalted butter

1/2

cup

brown sugar

1/2

cup

heavy cream

1/2

tsp

vanilla extract

pinch

coarse sea salt
Caramel Buttercream
4

TBS

caramel from prepared praline sauce

1/4

cup

butter, softened

1/2-1

cup

confectioners sugar

1

tsp

heavy cream
For decorations
1/4

cup

caramel candy melts
Instructions
Macaron Shells
Prepare macaron shells from macaron post linked at the top of the post
For the Salted Praline Sauce
Chop the nuts very small so they will not clog your piping bag.

Put chopped nuts and butter into a small-medium sauce pan.

Allow the nuts to toast and the butter to melt over medium high heat for a couple minutes.

Once the nuts are toasted and the butter is melted add the brown sugar, cream, and vanilla and stir to combine.

Turn the heat down to medium and allow it to come to soft roll. Continue stirring while it softly rolls (you may need to adjust temp) for 3 minutes.

Remove it from the heat and let it cool completely. As it cools it will thicken.

Once cool, add the course sea salt and stir to combine.
For the Caramel Buttercream
Scoop some caramel out of the praline sauce trying to limit the amount of nuts you get. It's ok if you get a few. Put the sauce into a bowl with the softened butter.

Whisk it vigorously until it seems lighter in color and combined well.

Add the confectioners sugar starting with 1/2 cup and stir it into the butter with a spatula. Once it's totally absorbed into the buttercream you can add more, up to 1 cup to get it to the texture you like.

Add the cream. Stir to combine.

If it became too thin you can add a little more powdered sugar a tablespoon at a time.
To Decorate and Assemble
Pair up your macaron shells so similar sizes are matched up.

On a baking tray lined with parchment, put the pairs with one side up and one down. I like to keep the ones I plan to drizzle towards the center of the tray.

Melt the candy melts and stir until smooth. Put the mixture in a piping bag. Snip a small hole of the end with scissors. Drizzle the candy over the tops of the shells you wish to decorate. Set the tray in the fridge for a couple minute to harden the candy.

Fill a piping bag with your caramel buttercream. I chose to use a small French tip in my bag. Pipe a circle around 1 side of each pair.

Fill a piping bag with the salted praline sauce. Snip a hole at the end and fill the centers of the buttercream rings. Do not overfill

Put the top of the cookie on and push down to seal them. If you find you're having trouble sealing the cookie, add more buttercream to your buttercream ring, or push in the center of the bottom of your top shell to make more space for the filling.

Store them in an airtight container to let them mature overnight.