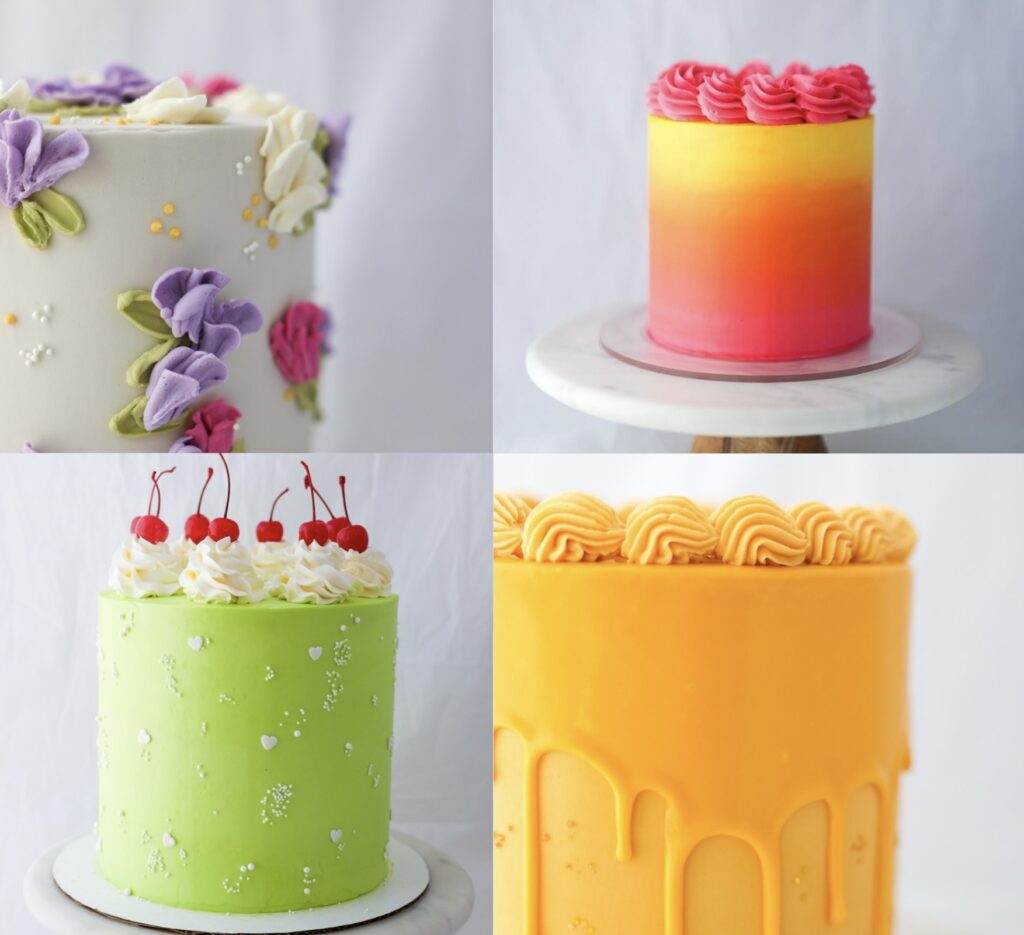 This faux Swiss meringue buttercream recipe is quick, easy, and so smooth. It's wonderful for cake decorating and comes together with simple ingredients. It can be flavored and colored to make beautiful and great tasting cakes!
How I landed on this recipe
I started cake decorating about 1.5 years ago. Sugar Geek Show was probably my number one resource when I was figuring out cake decorating and I used her Easy Buttercream Recipe for a very long time. Eventually I stated making small changes to it to suit me. This recipe is an adaptation from hers. The recipe is amazing and I recommend it to anyone and everyone. She also has a chocolate version and it is delectable.
I started liking my buttercream a little thinner and started experimenting with less egg white and less butter. When I kept getting asked about what I'm using, it got hard to explain a little less of this and a little more of this so I tried to nail down my ratios. For egg, sugar, and butter I'm using 1:4:3. If you like yours slightly firmer I think you will prefer Liz's original recipe with ratios that are 1:4:4. It seems like a small difference in ratios reduced like that, but makes a big difference.
Now, some people I've referred to that recipe have told me it's too "slippery" or too soft for them. This buttercream is very different if you're used to working with American buttercream. I happen to like mine even softer than what other people may like.
About the buttercream
The most common thing I think people will ask about is the uncooked eggs. In the United States you can find pasteurized eggs in the grocery store. All boxed egg whites are pasteurized, and you can use them in this recipe as long as it is the only ingredient listed in the ingredients list. In fact I only ever used boxed egg whites for this. Egg whites from whole eggs are generally recognized as safe, it is very rare for them to have salmonella, but if you are concerned you can look up a procedure to pasteurize them at home if needed.
It is stable at room temperature as any other buttercream is, but will definitely melt in heat. It does not crust. This buttercream freezes well and I always save all of my left overs.
The recipe here is enough for one cake, but I prefer to make a larger amount and save the left overs. For one cake the ratios for eggs, sugar, and butter in oz are 6:24:18. If you're a baker and like larger batches like me I prefer to make it as 8:32:24 because it's a whole 32 oz bag of confectioners sugar and it's 6 sticks of butter, easy.
You may love this buttercream recipe with my Easy Layer Cake recipe!
Tools for the buttercream recipe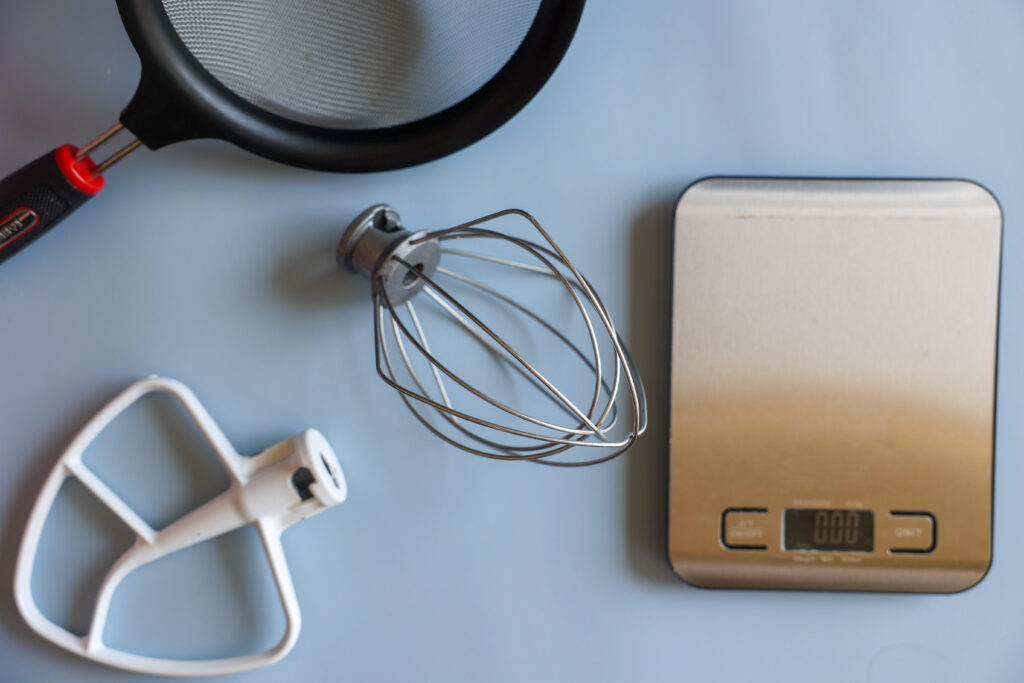 You'll need a mixer, a sifter to sift your powdered sugar, and a scale to measure your egg whites. You can not get around the scale, it is an important baking tool and they are inexpensive at most stores or online.
To make the buttercream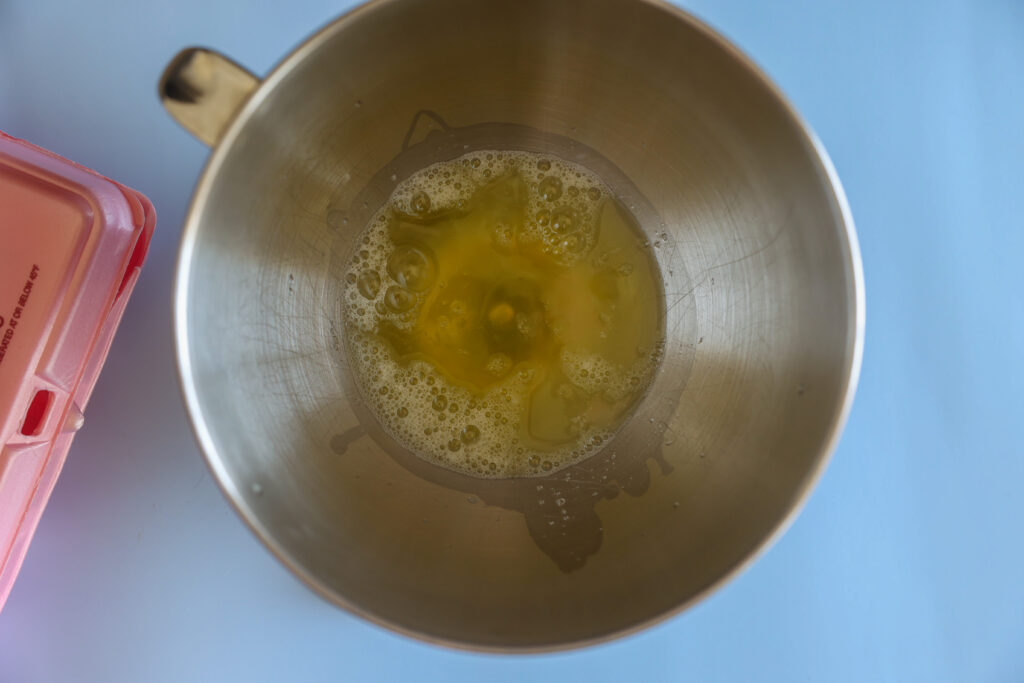 Weigh out your egg whites into the bowl of your mixer. Sift the powdered sugar into the bowl. Fit your mixer with the whisk attachment. Turn the mixer on a low setting and work your way up to high. Let that mix for 6-8 minutes until it has whipped up into a meringue.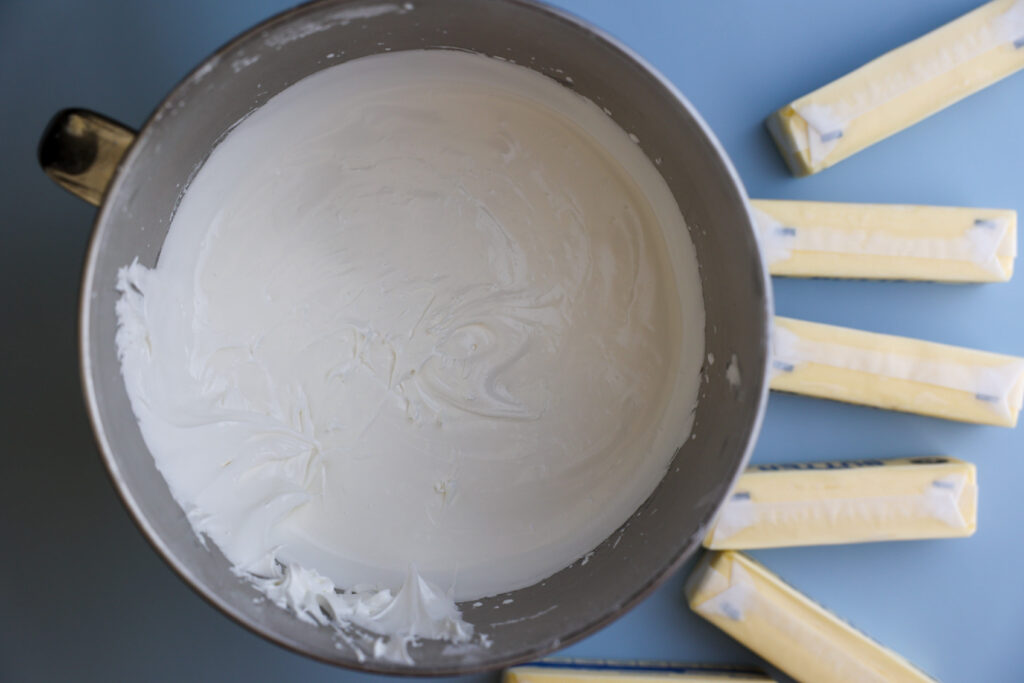 You may like to trade out your whisk attachment for the paddle attachment to decrease air pockets for the next step. Turn it on low and start adding your butter in one stick at a time. It may begin to seem curdled if your egg whites were colder than your room temperature butter. It's ok, the temperature will even out and it will come together just fine by the time it is done. Once all of the butter is in, add your salt and flavor of you choice. Let it mix for about 10 minutes. It seems like a long time but it's supposed to help reduce air pockets.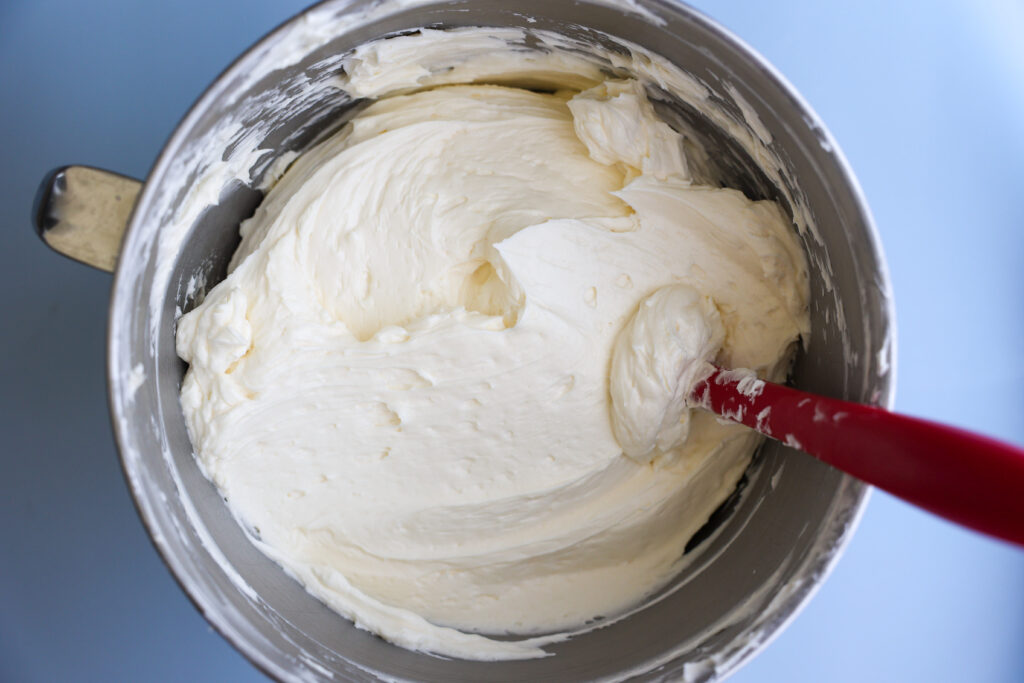 This is the point where I will separate it out and color it if I am planning to do something colorful, and if you know me, I almost always am. I like to use Americolor gels. If you're new to cake decorating I highly recommend this student kit because it has most colors that you can mix to make more shades. This is how I started out and then as I ran out slowly started buying the larger bottles and more shades.
If you're interested in learning more about this type of buttercream I highly recommend you read through Liz at Sugar Geek Show's whole blog post on it. It's full of so much information and is very educational.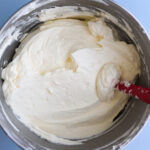 Print Recipe
Faux Swiss Meringue Buttercream
a quick way to make a smooth buttercream great for decorating
Equipment
mixer

with whisk and paddle attachments

kitchen scale

spatula

sifter
Ingredients
6

oz

egg whites

24

oz

confectioners sugar

18

oz

unsalted butter, softened

1

tsp

salt

1

TBS

flavored extract, like vanilla
Instructions
Weigh out your egg whites in the bowl of your mixer. *

Sift your confectioners sugar into the bowl.

Make sure your mixer has the whisk attachment on. Begin mixing it on low, slowly increasing it to high and let it go for about 6 minutes.

Change out your whisk attachment for the paddle.

Turn the mixer on low and add your butter in 1 stick at a time.

Add your salt and flavoring.

Let the mixer go on low for about 10 minutes. **
Notes
*Egg whites can be from a carton as long as egg whites is the only ingredient listed on the box
** if the buttercream looks curdled at this point do not worry it's just because of the temperature difference from the egg whites. It will combine and be fine by the time it's done mixing.