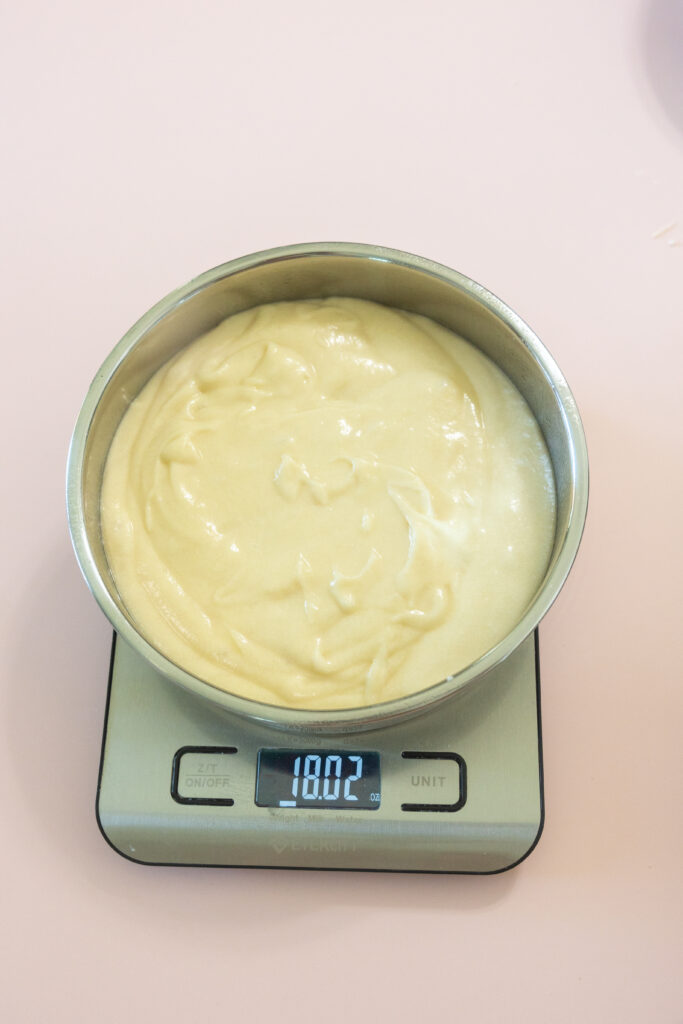 This versatile cake recipe produces nice flat cake tops with a tight crumb, perfect for trying to make a stacked and decorated cake.
When I started cake decorating a year and a half ago I never would have thought I would have my own cake recipe. But here I am!
About the cake
I've altered this recipe many times. I've baked it using the standard method for mixing cakes and reverse creaming. I've tried it in many different sized pans. I've added cookies, sprinkles, macaron bits, graham cracker crust, and fruit to the batter. I've used many different flavored extracts and I love this cake so much because it can wear any hat so to speak.
My favorite extracts are cake batter flavor, almond, and vanilla.
I recently added sour cream to the recipe, though it can work without it, I highly recommend using it.
I'm going to be using the reverse creaming method here because I prefer to have flatter cakes with a tighter crumb. I never need to trim my cake to make them flat! The reverse creaming method coats all of the flour in fat first and in my opinion improves texture.
If you like a slightly fluffier cake you can mix it the traditional way as well. To do that cream your butter and sugar, then add 1 egg at a time until they're mixed, and alternate adding your dry ingredients and liquid making sure to scrape your bowl and not over mix. Using a whisk attachment can help whips some air into the mixture as well.
I typically use this recipe for 3, 6 inch layers, I love halving this recipe and baking it in 4, 4 inch pans to make bento style cakes. It also doubles and triples well if your mixer bowl can handle it! I frequently double this so I can make multiple layers at once, the batter is fine sitting at room temperature covered while the other layers bake.
For the cake
You'll need a mixer of some sort, cake pans, cooking spray, a bowl, baking foil, parchment paper, and a scale. You can not get around the scale, it is an important baking tool and they are inexpensive at most stores or online.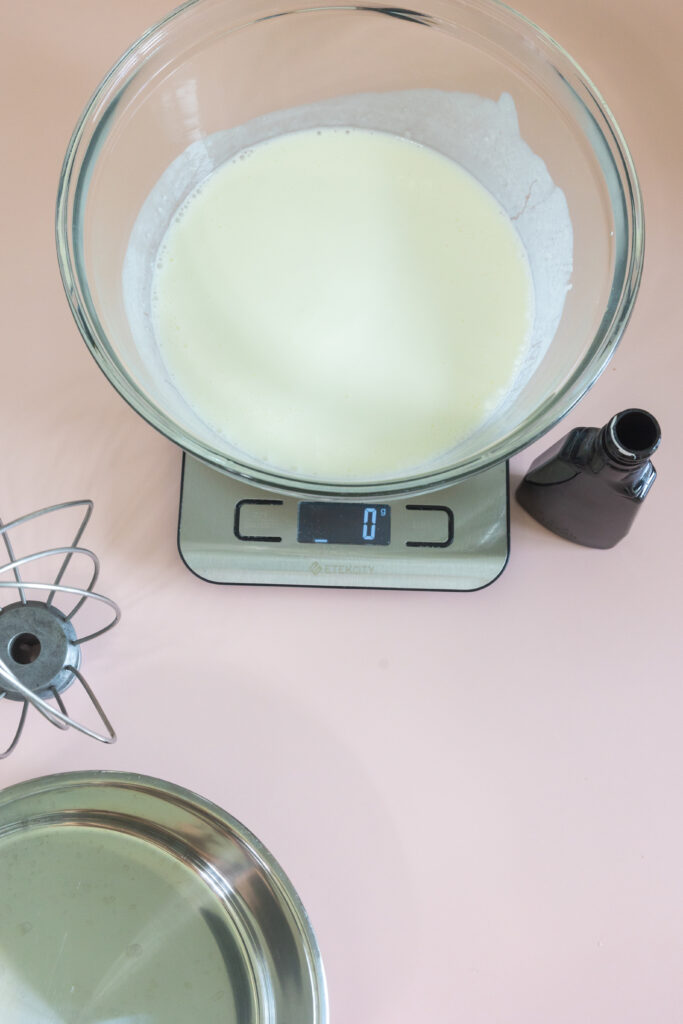 Start by combining your room temp buttermilk, flavored extract of your choice, room temp eggs and sour cream if you're using it. Mix to break up the eggs and combine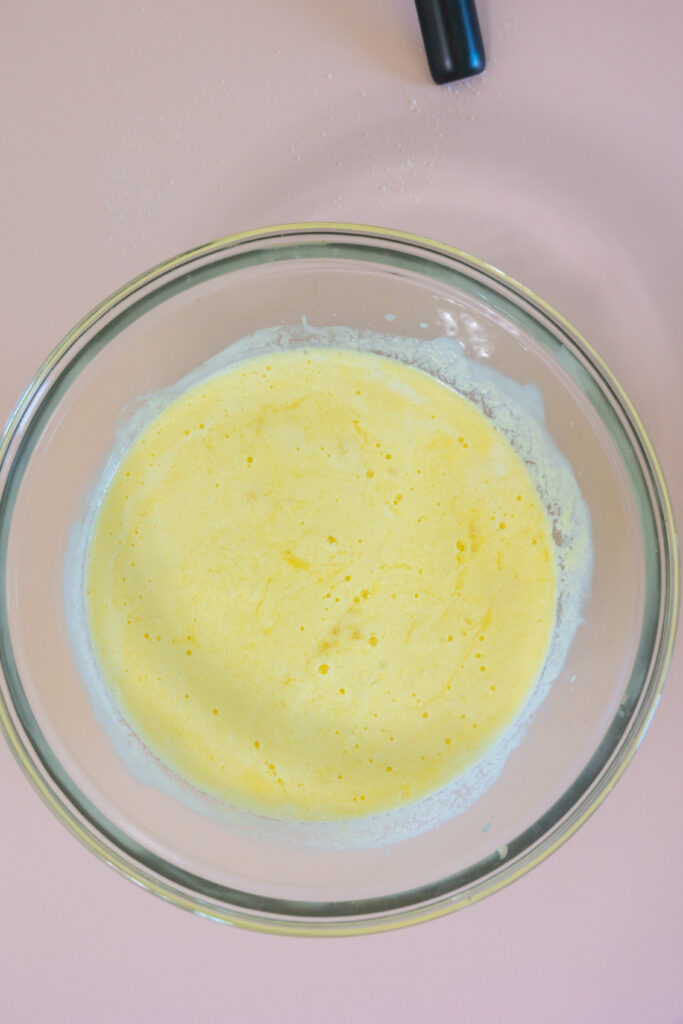 Then you will add your flour, salt, baking powder, and sugar to the bowl of your mixer. To that add the softened butter and mix with your paddle attachment on the lowest setting on your stand mixer until it looks like course sand, around 1 minute.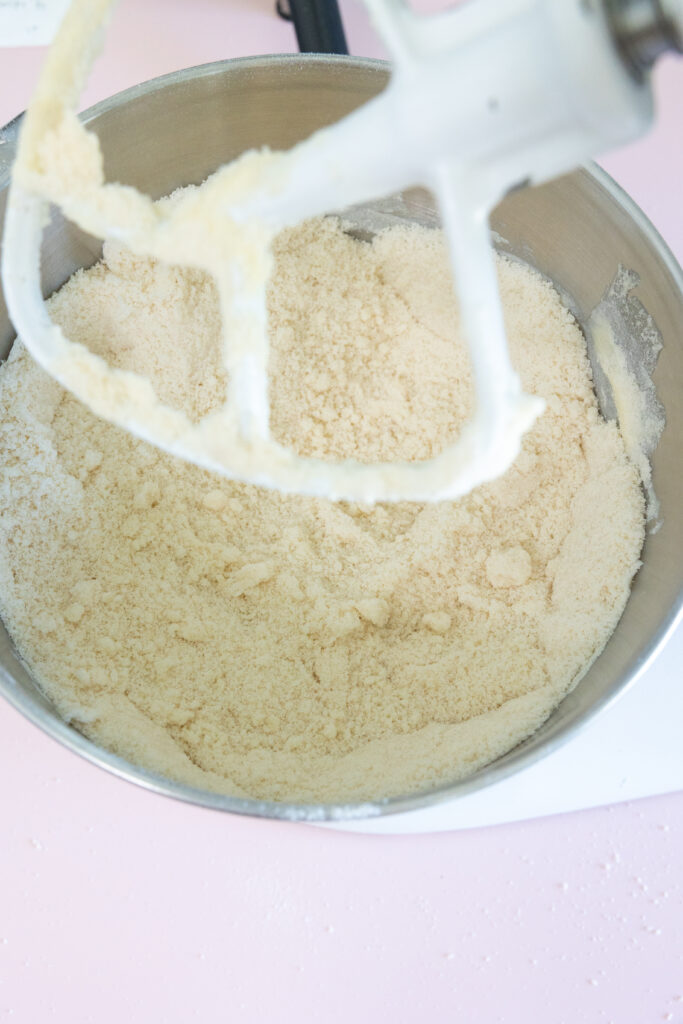 Once it looks like sand, with your mixer on low, add around half of your wet ingredients. You really just want to add enough liquid so that everything is a little wet without forming a dough texture, it should resemble cake batter. Then turn it to medium and let it mix for 2 minutes. Set a timer and do not go over. This helps develop the structure of the cake, without over mixing.
Scrape your bowl after the 2 minutes and then add the rest of your wet mixture with your mixer on low, just until totally combined. About 15 seconds.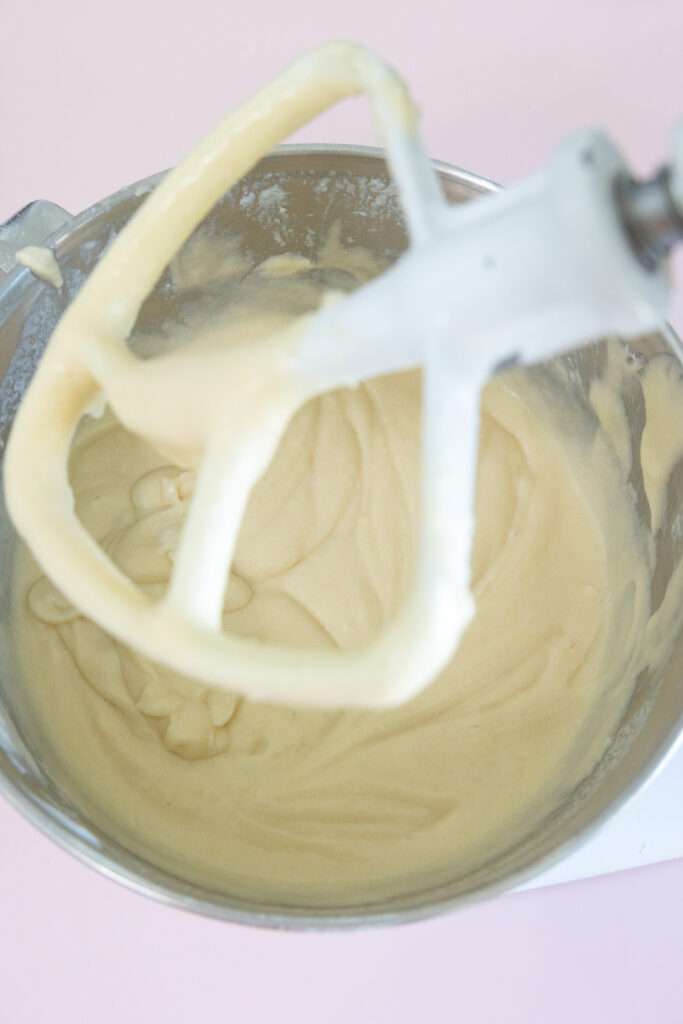 Now you should prepare your pans by spraying the sides and lining the bottom with parchment paper. I like to spray over the sink to keep the oil mess contained. And I wait until I'm about to pour my batter to spray as well so it doesn't all run down to the bottom. Divide the batter evenly between 3, 6 inch pans. I like to do about 18 oz per 6 inch pan. There will be a little left over batter, I like to bake a bento cake with it in a 4 in pan.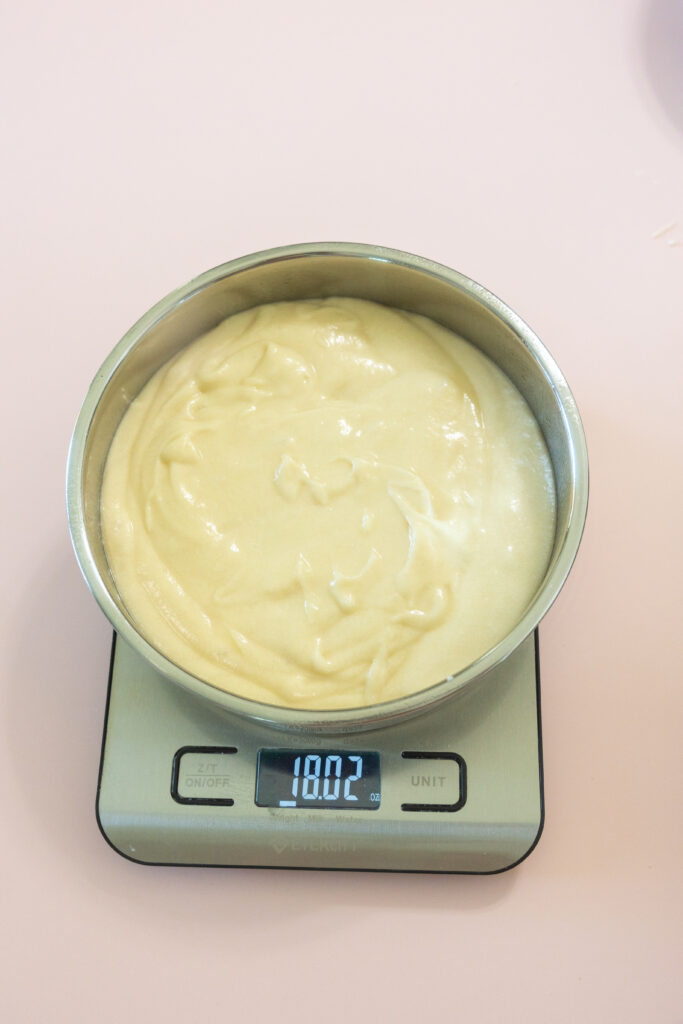 Smooth the batter so it's flat in the pan, I find this to be really important if you're mixing your cake the traditional way to help produce a more flat top. Then cover your pans with aluminum foil. This does a couple things, it helps bake your cake more evenly so the outside doesn't crust before the inside bakes, keeps it moist, and helps produce a nice flat top! I ditched my cake strips when I learned this, but not totally because I haven't had great results with this on my chocolate cakes yet. 🙂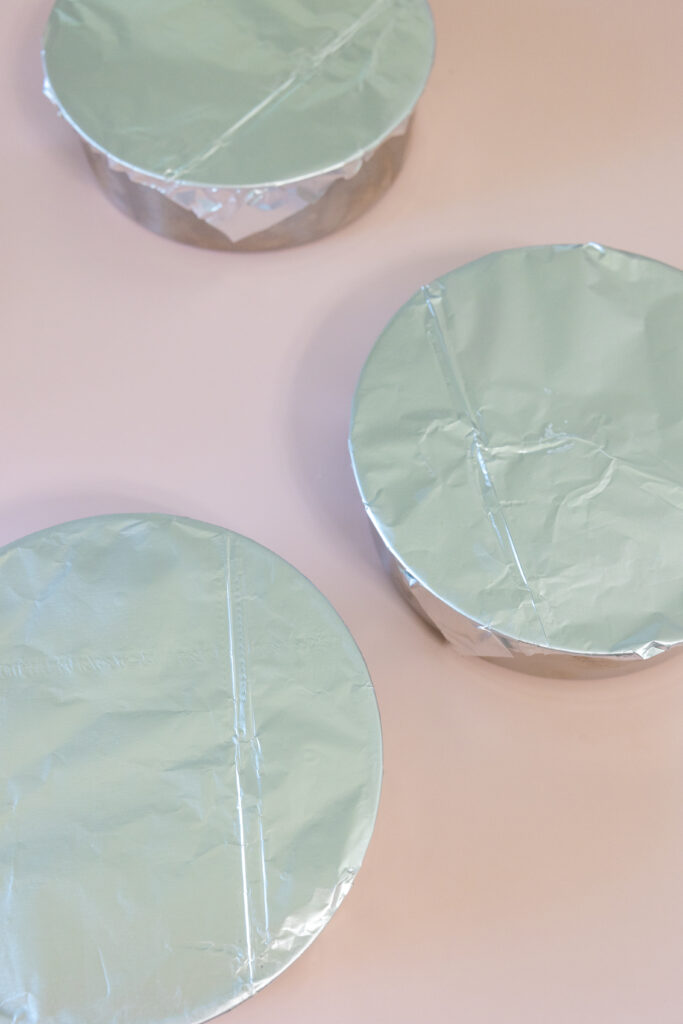 Bake your cakes in an oven preheated to 330 degrees, this takes me about 60 minutes. Baking at a lower temperature helps keep your sides from browning and helps keep the top flat. When the cake is done you'll notice the cake has started to pull away from the pan and a toothpick will come out of the center of the cake clean. Then you can place it on the cooling rack and carefully remove the foil, steam will release so be super careful.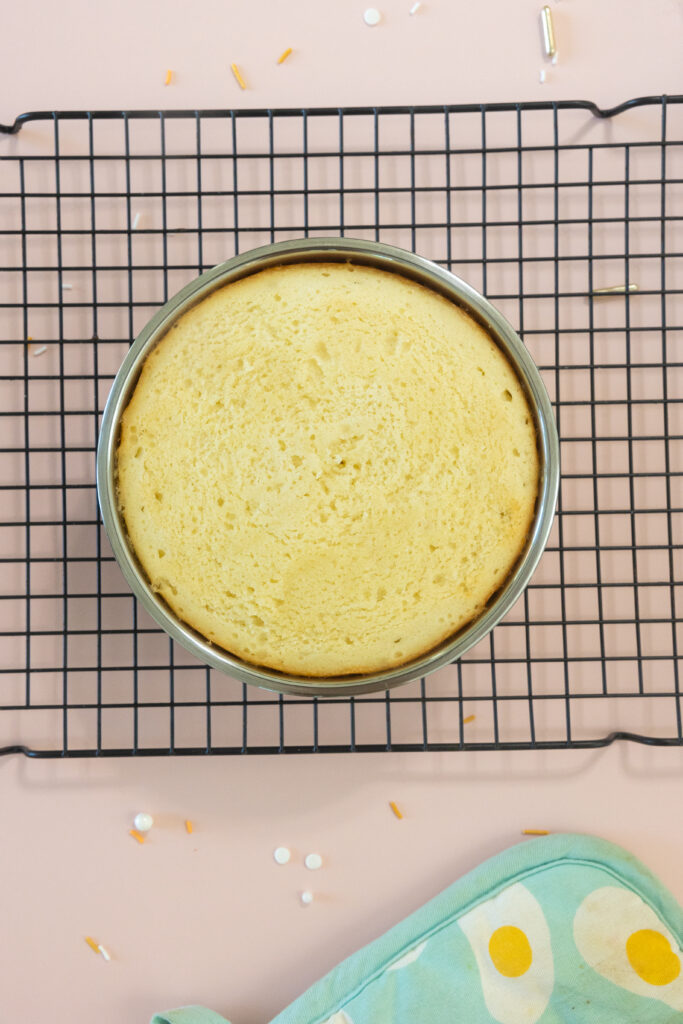 Let the cakes cool for about 15 min or until pans are cool enough to touch. To remove them I like to make sure nothing is stuck to the side. I slide them on the counter bouncing them back and forth between my hands quickly. If it seems like it's not releasing I will carefully run a knife along the sides, but the bouncing is both fun and pretty effective. Leave them on the cooling rack to cool completely.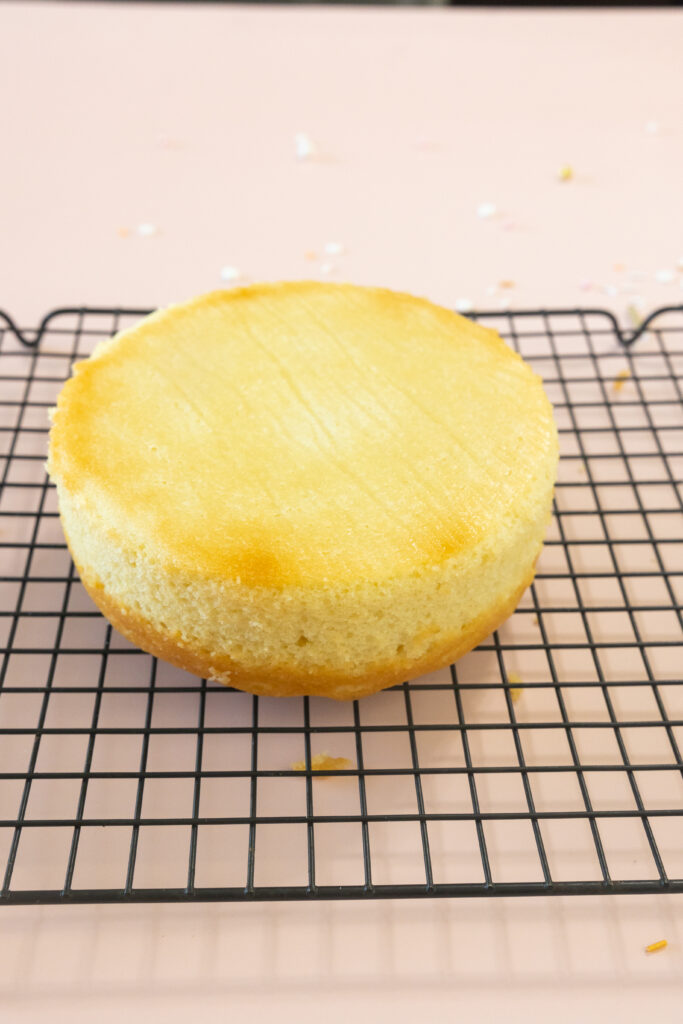 Once your cakes are totally cool I recommend wrapping them in plastic wrap and freezing them because decorating from frozen is life changing if you've never done it. It reduces wiggle while frosting, crumbs don't spread everywhere, and it helps quickly firm the buttercream. Specifically the freezer not the fridge. Refrigerators dry out things like cake a bread. The freezer keeps the moisture in.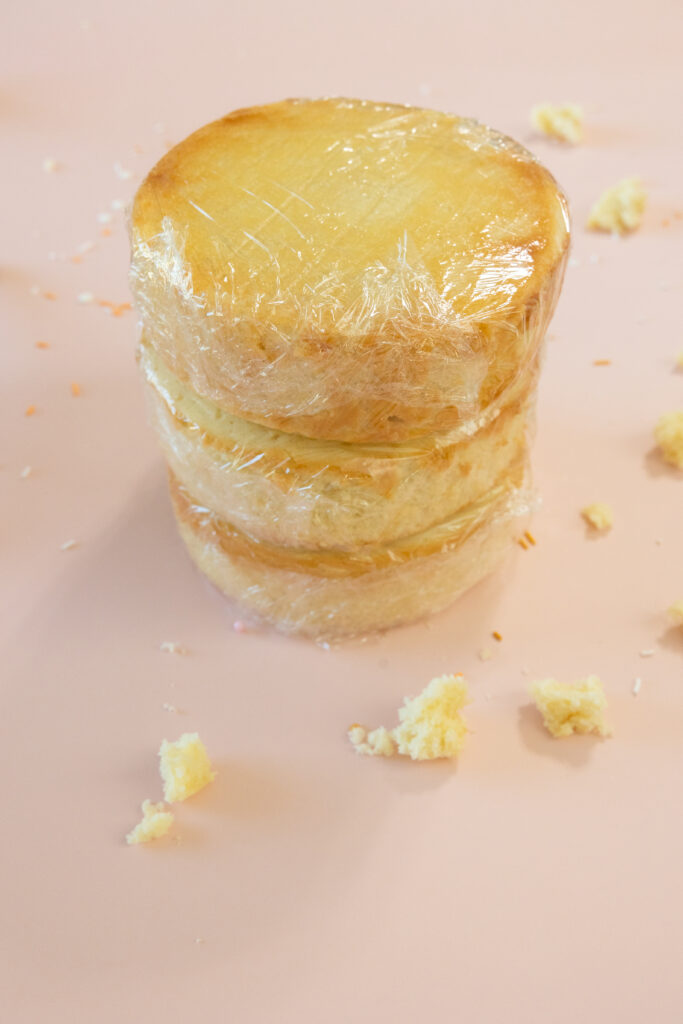 When you put them in the freezer I recommend putting them on a flat sheet pan and letting them freeze totally before stacking them. If you don't the weight from the top may squish down and shorten the lower layer. Don't put them on top of unflat items before they're totally frozen, or even when frozen because you will dent the cake and all the effort to make a nice flat cake will be ruined.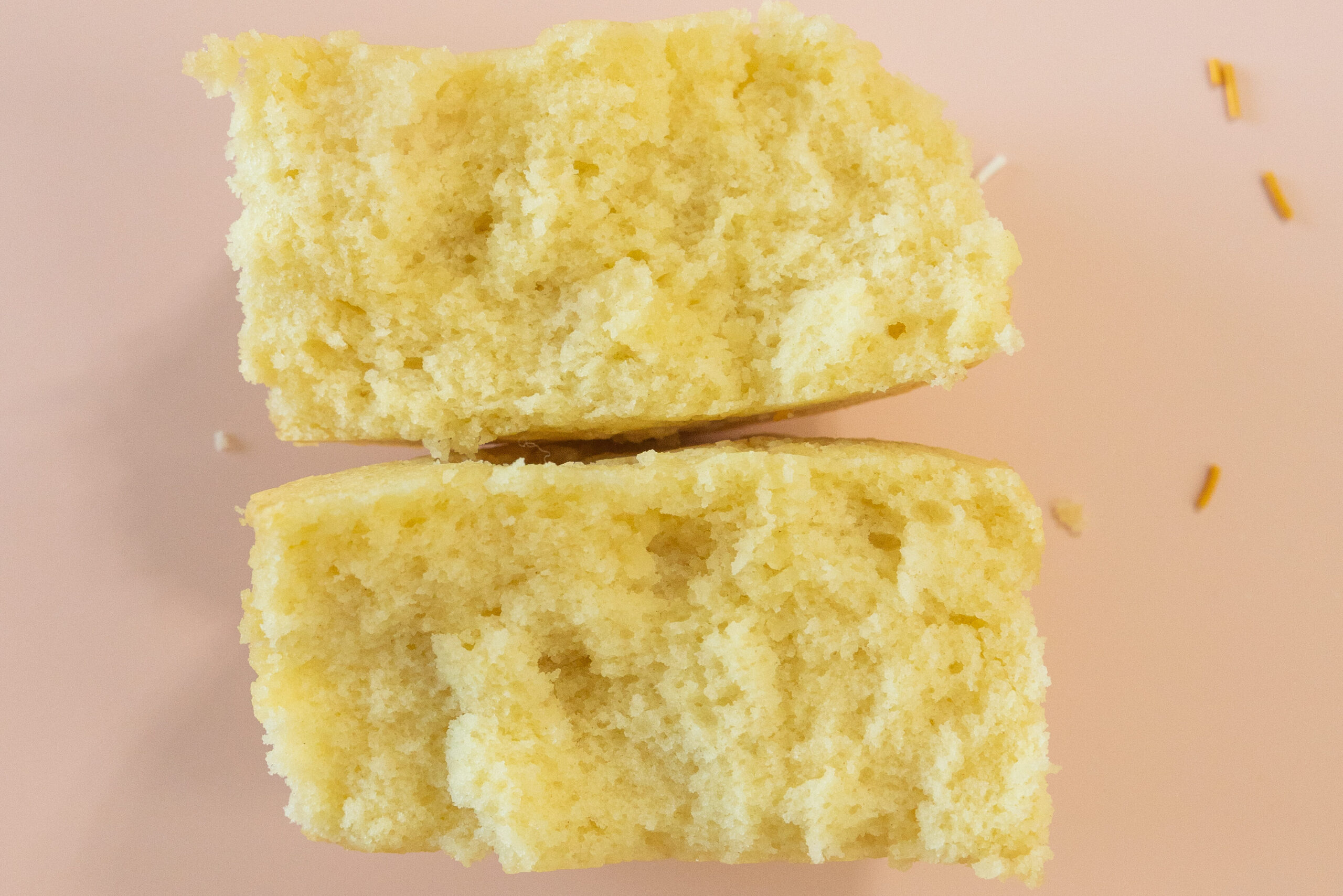 Here is the inside of the little bento cake I baked along with the layers. If you follow me on social media you've likely seen me show you the squish squish! And also me shoving these in my mouth. 🙂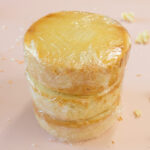 Print Recipe
Layer cake recipe
A versatile layer cake recipe
Equipment
mixer

6 in cake pans

kitchen scale
Ingredients
430

g

all purpose flour

1

tsp

salt

1

TBS

baking powder

630

g

sugar

1

cup

unsalted butter, softened*

4

eggs, room temp**

395

g

Buttermilk, room temp/slightly warm***

1.5

TBS

flavored extract (vanilla, almond, cake batter, etc)

2

TBS

Sour cream, room temp (optional)
Instructions
Preheat your oven to 330 degrees, check for accurate temp with an oven thermometer

In a bowl combine buttermilk, flavored extract of your choice, sour cream if using, and room temp eggs. Mix to break up the eggs and combine.

Add flour, salt, baking powder, and sugar to the bowl of your mixer.

Add the softened butter and mix with your paddle attachment on the lowest setting on your stand mixer until it looks like coarse sand, about 1 minute.

With your mixer on low, add around half of your wet ingredients. You really just want to add enough liquid so that everything is a little wet without forming a dough texture, it should resemble cake batter. Then turn it to medium and let it mix for 2 minutes. Set a timer and do not go over. This helps develop the structure of the cake, without over mixing.

Scrape your bowl after the 2 minutes. With your mixer on low add the rest of your wet ingredients. Mix just until totally combined. About 15 seconds.

Prepare your pans by spraying the sides and lining the bottom with parchment paper.

Divide the batter evenly between 3, 6 inch pans. I like to do about 18 oz per 6 inch pan. There will be a little left over batter, I like to bake a bento cake with it.

Smooth the batter so it's flat in the pan, then cover with aluminum foil.

Bake until done about 60 min. When the cake is done the sides will start to slightly pull away from the pan and a toothpick inserted in the center will come out clean.

Place on cooling rack, carefully remove foil.

Let the cakes cool for about 15 min or until pans are cool enough to touch and remove them from pans to cool completely.

Once cakes are totally cool I recommend wrapping in plastic wrap and freezing to decorate cake from frozen.****
Notes
*Butter can be softened by microwaving in short burst, do not melt it, if it melts set it back in the fridge to firm up some
**Eggs can be brought to room temp quicker by placing in warm water
***Buttermilk can be brought to room temp by microwaving
**** When freezing cakes make sure they are set on a flat surface with nothing on top until they are totally frozen, putting them on a flat baking sheet in the freezer works