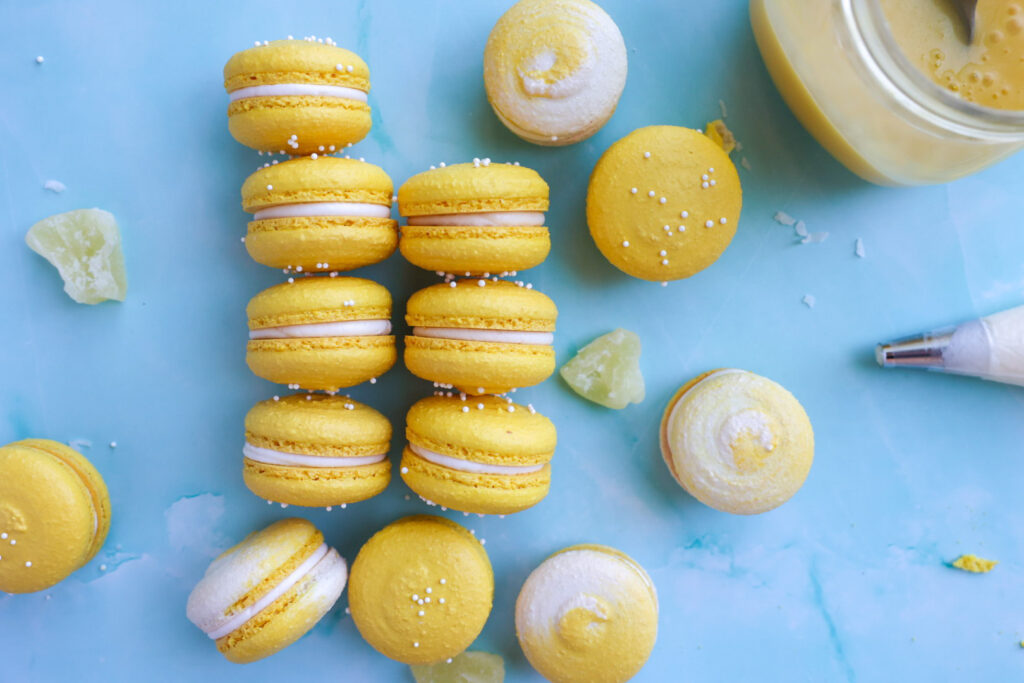 These macarons have a soft smooth coconut buttercream and a cool tangy pineapple curd in the middle. It's a bite of summer!
If you like these macarons, you may really like my Coconut and Pineapple Curd Cake!
Tools you'll need
To make the shells you'll need a mixer with a whisk attachment, sifter, kitchen scale, baking pans with mats or parchment paper, oven thermometer, wilton tip number 12. For the curd you need a sauce pan and whisk, nothing crazy. The buttercream is made with regular kitchen tools too, nothing special.
For the macaron shells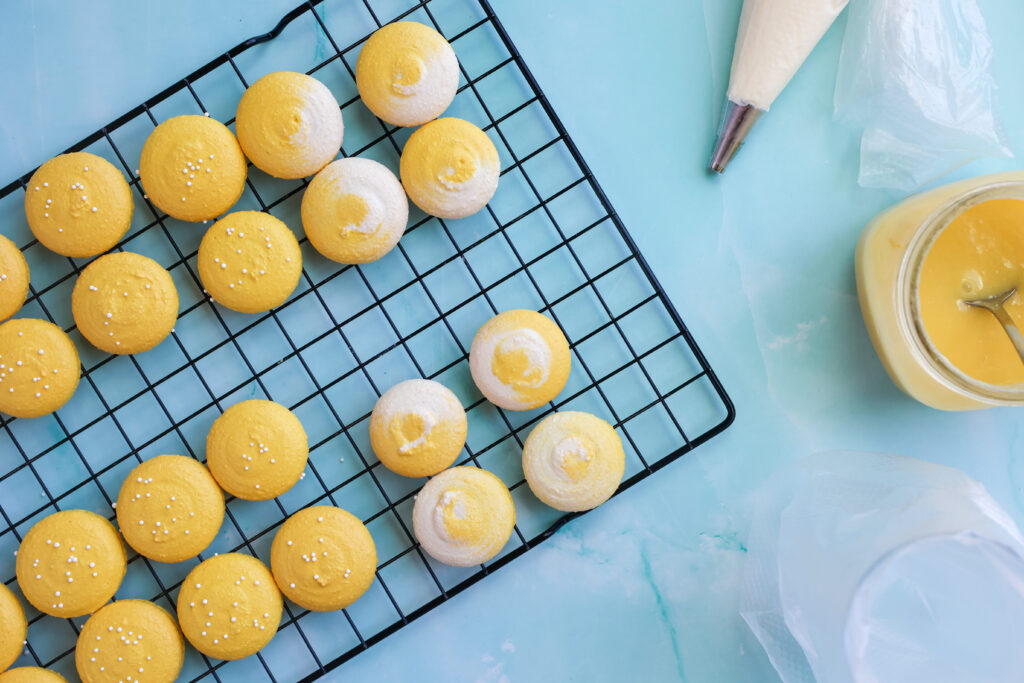 For these you will need to make macaron shells. If this is the first time you're making macarons I suggest you read through my whole post on my macaron shell recipe post. I'll leave that link there for the shell recipe and we will get right into making the extra tasty parts, the coconut buttercream and pineapple curd!
I colored most of the batter with Americolor gel yellow and the tiniest bit of crimson just to change the shade a bit. Then sprinkled white nonpareils on top before they were baked. For half of the shells I put white batter on one side of the bag and yellow on the other to give a swirl effect.
For the buttercream
It's such a small amount of buttercream, don't bother pulling out your mixer, unless you feel like it! We only need enough to make circles around our shells. Put the softened butter in a bowl and whisk it around quickly until it seems lighter in color. Put the sugar in 1/2 cup at a time and mix it in with a spatula. My butter seemed extra soft and needed more sugar than anticipated. It will need 1/2 cup to 1 cup of sugar. Then add the extract and heavy cream and mix it together with a spatula until it's the consistency that you like. I bagged mine up and used a number 12 tip to pipe my rings on my shells, though it's not necessary, you can just cut the tip off a bag.
Make sure you have a substantial buttercream rim on these because the curd is a tad runny and will leak otherwise.
For the Pineapple Curd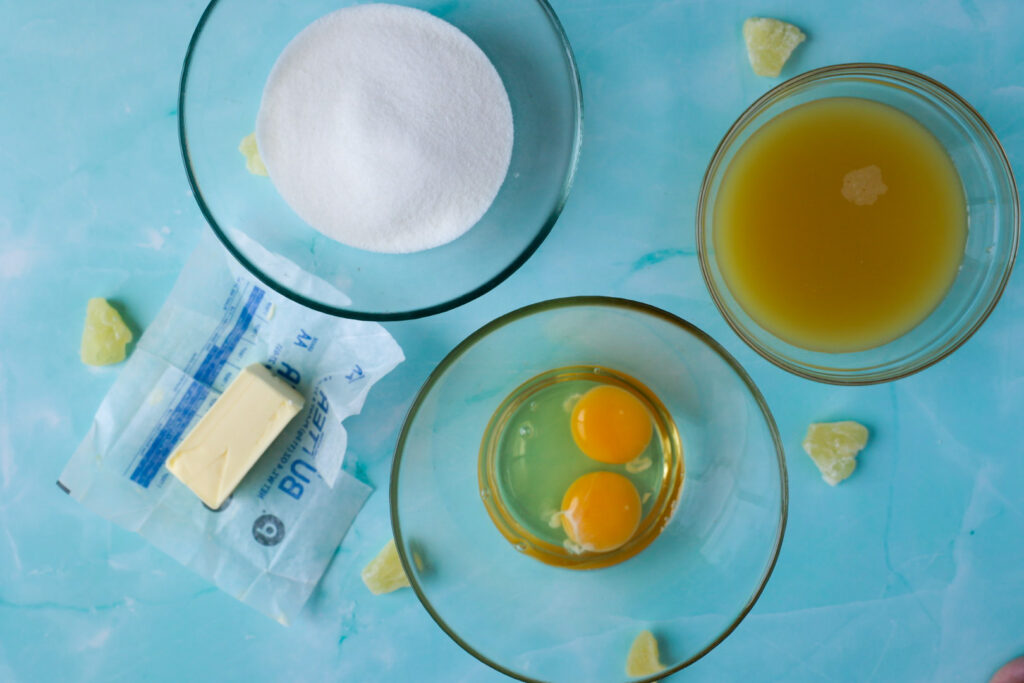 I had left over pineapple curd from my coconut and pineapple curd cake. Which would be a great way to use up left overs! It's difficult to make a smaller amount.
You'll put all but the eggs in a sauce pan, turn it to medium low heat stirring until the sugar is totally dissolved. It does not need to get super hot, just warm enough to dissolve the sugar. Then in a separate bowl you'll whisk your 2 eggs. You will temper the eggs by very slowly adding small amounts of the hot liquid while whisking. Once a little more than half of the mixture has been mixed and the egg mixture feels warm you can add it all to the sauce pan. Constantly whisk the mixture for 3-5 minutes until the mixture thickens, once it's thickened remove it from the heat to let cool. Once cool store it in an airtight container in the refrigerator until ready to use.
If it got too warm too fast you may see some bits of cooked eggs. It's not totally ruined just strain it. If there is a lot, you may want to try again.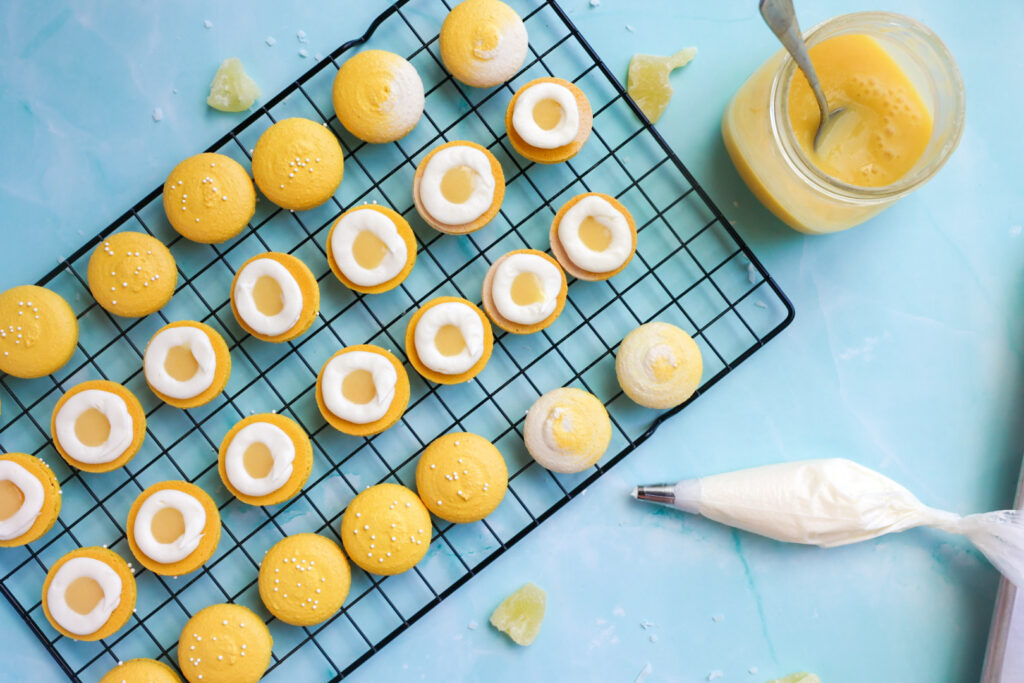 When you fill them take your time because the curd is runny. I used a piping bag with a very small hole cut off the tip. A bottle may be good for controlling flow as well. Do not overfill these. Stay on the side of underfilling or it will get messy. Delicious, but messy.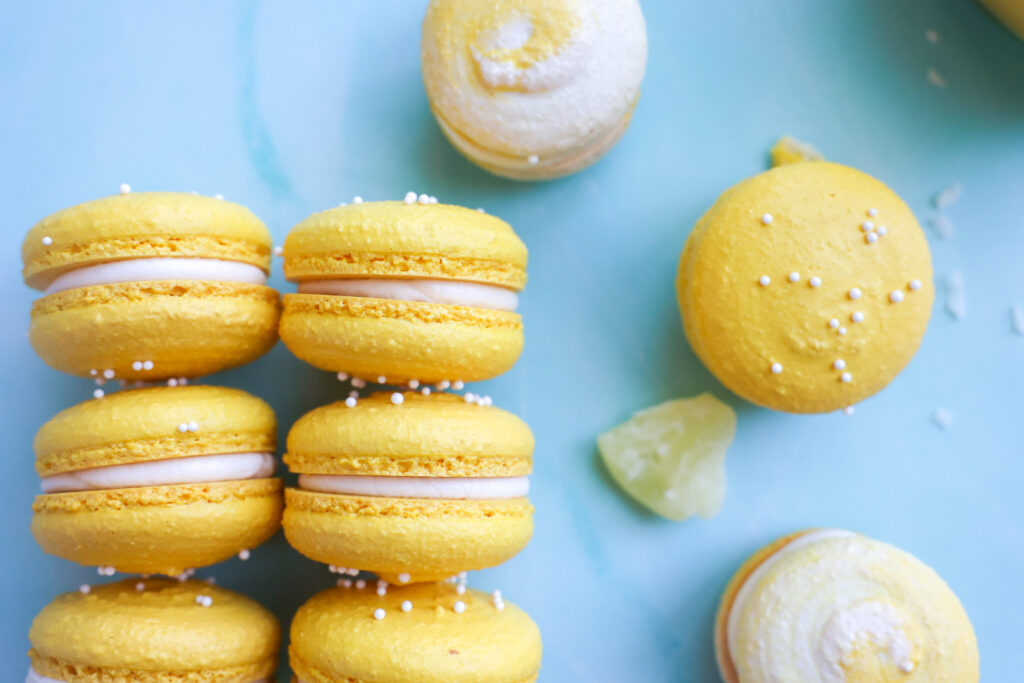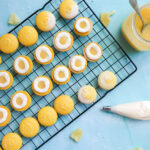 Print Recipe
Coconut and Pineapple Curd Macarons
fruity and tangy coconut and pineapple macarons
Equipment
mixer with whisk attachment

kitchen scale

oven thermometer

sifter

aluminum baking pans

macaron mats

bowls

spatulas

whisks
Ingredients
Small Batch Coconut Buttercream
1/4

cup

unsalted butter, softened

1/2-1

cup

confectioners sugar

1/2

tsp

coconut extract

1

tsp

heavy cream
Pineapple Curd
1/4

cup

pineapple juice

juice of 1 lemon

2

TBS

unsalted butter

1/2

cup

sugar

2

whole

eggs
Instructions
For the coconut buttercream
Put the softened butter into a bowl and whisk it vigorously until it seems lighter in color.

Add the confectioners sugar starting with 1/2 cup and stir it into the butter with a spatula. Once it's totally absorbed into the buttercream you can add more, up to 1 cup to get it to the texture you like.

Add the coconut extract and cream. Stir to combine.

If it became too thin you can add a little more powdered sugar a tablespoon at a time.
For the pineapple curd
Add all the ingredients except for the eggs to a sauce pan and put over medium low heat to begin melting down the sugar and butter.

Crack your eggs into a bowl, whisk to break up and set aside.

Once your sugar has completely dissolved in the pineapple juice you will temper the eggs with it. To temper the eggs, while whisking, add small amounts of the warmed liquid. Go very slow so you do not cook the eggs.

Once half of the liquid has been introduced it can all be transferred back into the pan on medium low heat.

Allow this to cook for 3-5 minutes while whisking the mixture.

Once it has thickened remove it from the heat. Allow it to cool and store it in an airtight container in the fridge until you're ready to use it. It will thicken as it cools.
To assemble
Match up your macaron shells by sizes, so they are paired up.

On one side of each pair pipe a ring of buttercream around the edge. Make sure you use enough to give a good seal to hold in the pineapple curd.

Put your pineapple curd into a piping bag or bottle. Snip only a small hole because it flows quickly.

Fill the center of the buttercream rings, making sure not to over fill. Underfilling would be better in this case.

Put the matching macaron shells on the tops and gently push down to seal.

Place them in an airtight container in the fridge to mature overnight.