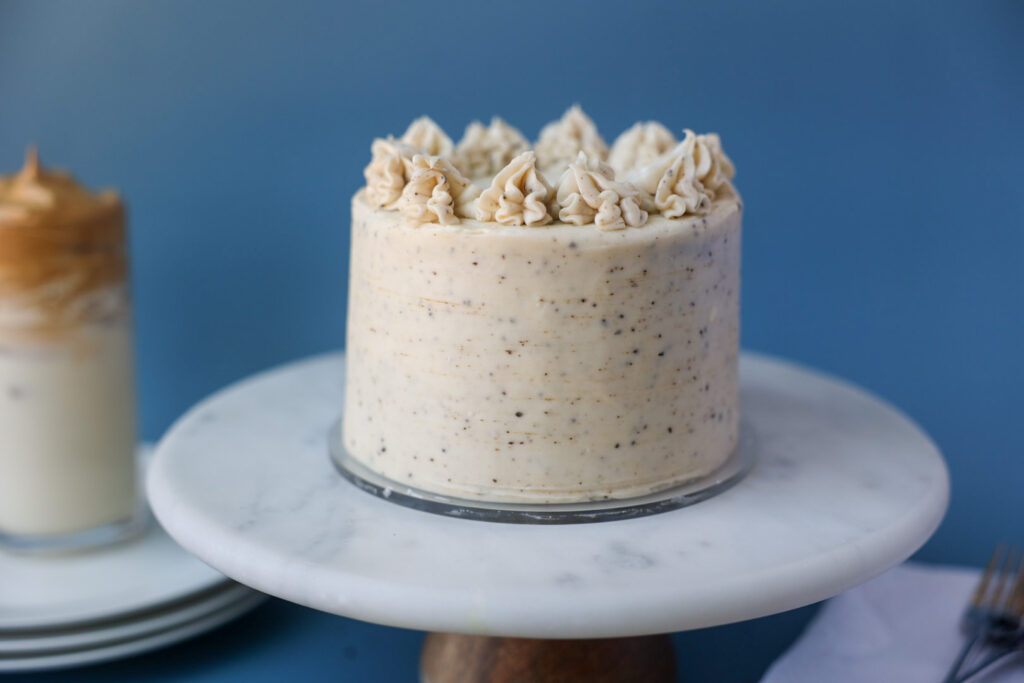 Dalgona is a very happy quarantine memory for me. Dalgona cake with tangy cream cheese frosting is something else I can find myself being nostalgic about.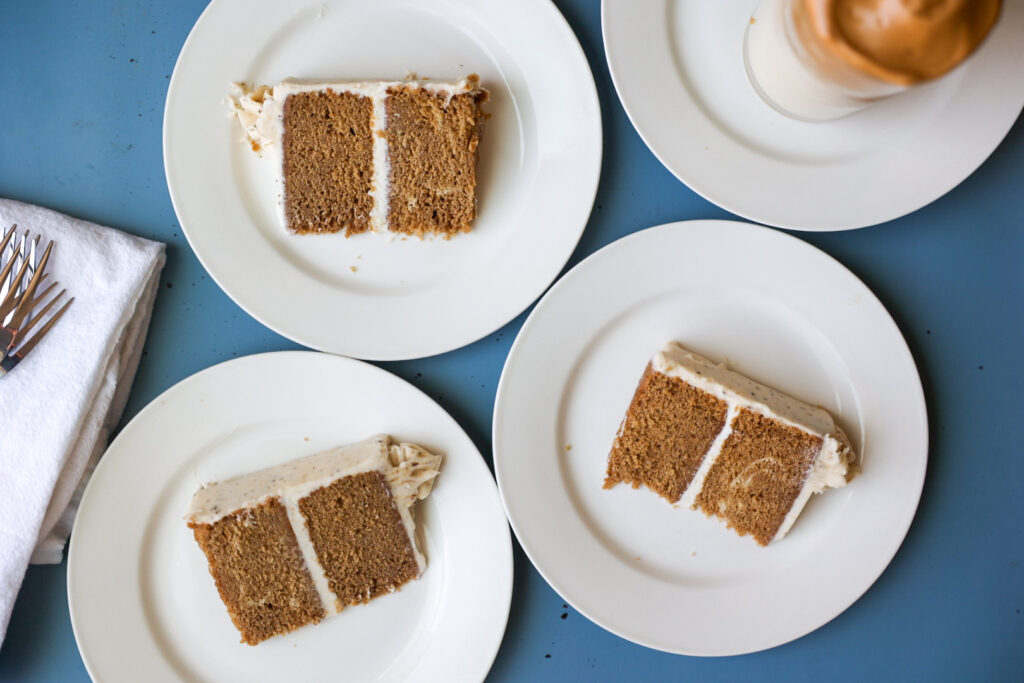 Dalgona coffee, the official quarantine drink. I made that up, but it sounds right. You basically put equal amounts of instant coffee, water, and sugar into your mixer and whip it on high until it's super light in color and fluffy. Then you put it over cold milk and stir. It's pretty awesome.
About the Dalgona Cake
I first tried it in a genoise style cake. I replaced the water in the whipped texture for egg whites and tried to make it that way, it was so gross and tough. Absolutely awful. So I decided to just make regular dalgona and fold it into cake batter. I just used half of my usual cake recipe.
The batter. I'm drooling remembering it. I struggled to not just bite into the cake layers after they cooled. It smells so good.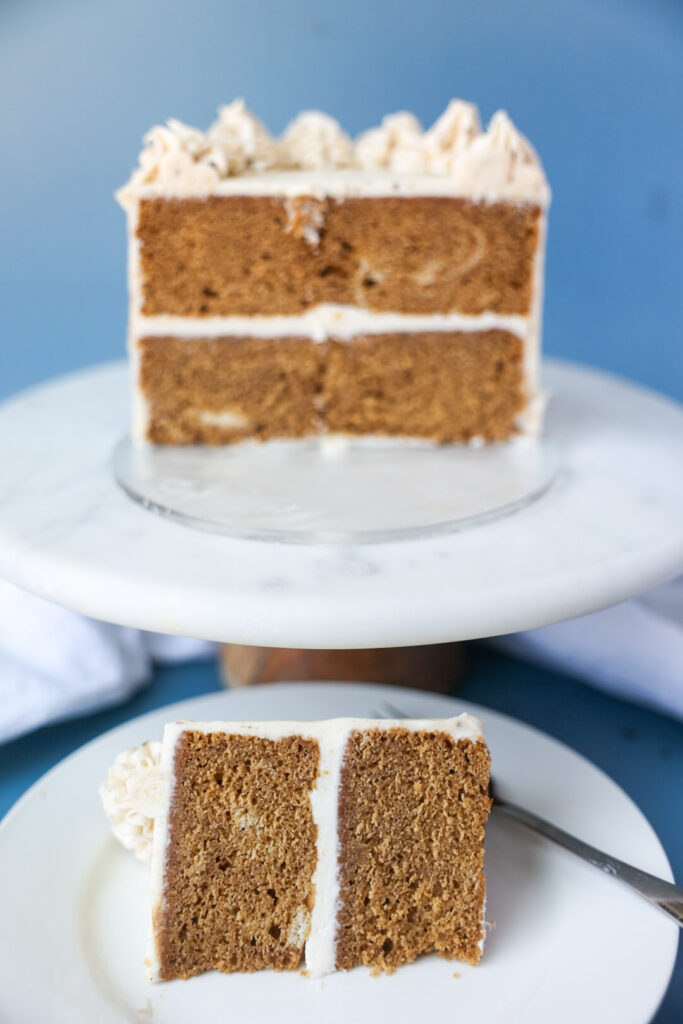 I decided to make this cake on the smaller side so if you want a big cake you may want to double up. This recipe makes two 6 inch wide, 2 inch tall cake layers. In my opinion it's perfect for a little coffee date with a few friends or a small cake to gift someone.
Instead of using the reverse creaming method I usually prefer I made this the traditional way by starting with creaming sugar and butter.
The last thing before we start, remember this is a caffeinated cake, if caffeine affects you in any particular way, keep that in mind! I let my daughter try the cake in the late afternoon and regretted it when I was still trying to get her to sleep at 10 pm. Okay let's get to it.
For the Dalgona Mixture
Start by putting 2 teaspoons of instant coffee, 2 teaspoons of sugar, and 2 teaspoons of water into your mixer with the whisk attachment. Whip it on high until it looks light in color and is super fluffy. This is what it looks like.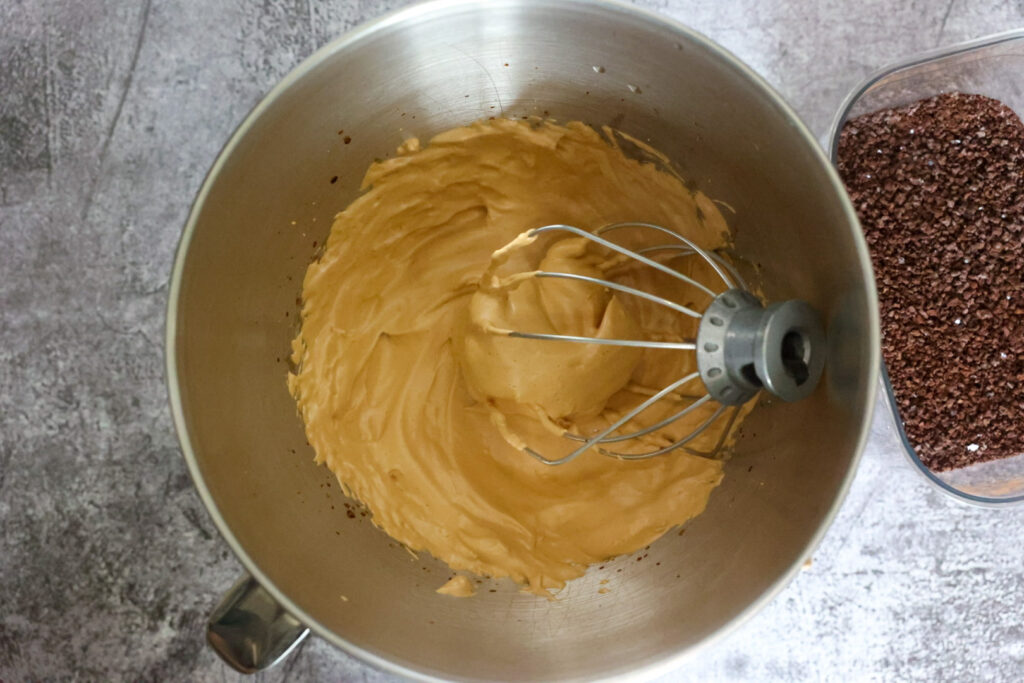 Transfer the dalgona mixture to another bowl so you can make your cake in the mixer bowl.
For the Cake Batter
You'll need a mixer of some sort, cake pans, cooking spray, a bowl, baking foil, parchment paper, and a scale. You can not get around the scale, it is an important baking tool and they are inexpensive at most stores or online.
Make sure your oven is preheating to 330 degrees. Start creaming your butter and sugar together. You can do this with either the paddle attachment or whisk. I used a whisk attachment because it adds in some more air. My cake recipe I use generally produces a very tight crumb but I thought why not since we're adding Dalgona.
After the butter and sugar is creamed, add your room temperature egg and combine. Combine your dry ingredients in a bowl and all your liquids in another. Then you can add 1/2 your dry ingredients to the butter mixture in your mixer until incorporated, then 1/2 your liquids until it's incorporated, then the rest of your dry until it's incorporated, then the rest of your liquid. Scrape your bowl to make sure everything is in the mixture and let it go for 10 more seconds. Never over mix cake, it makes it tough.
After your batter is made, put the Dalgona mixture in and fold it in until it's combined.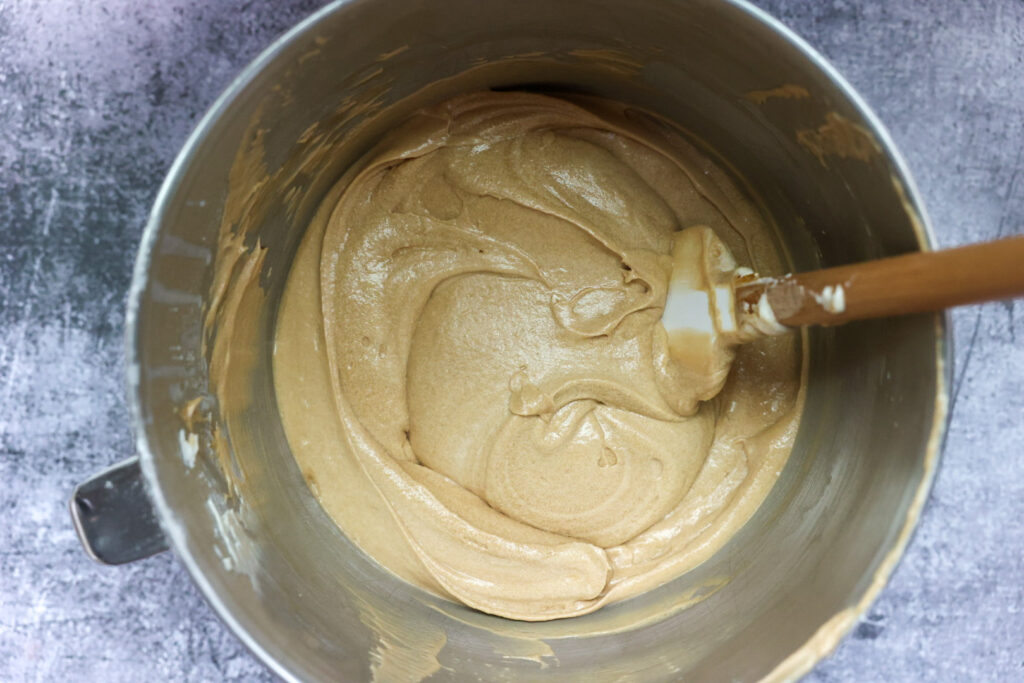 Then divide it between your prepared pans. I spray my pan edges and put parchment in the bottom. I had enough batter for about 16 oz each.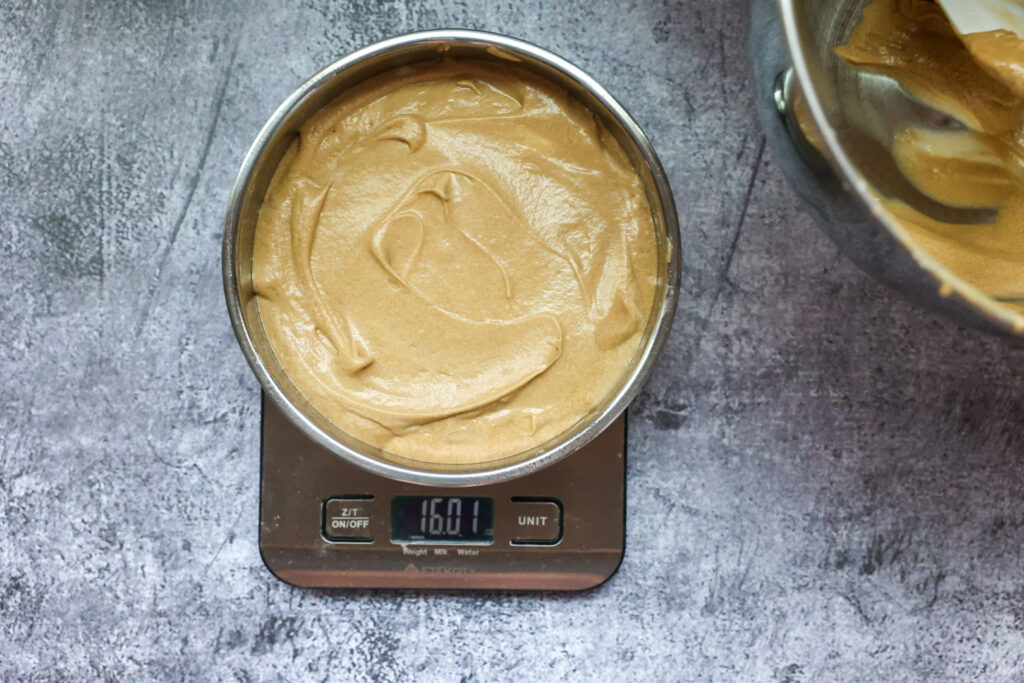 Then I covered my pans with aluminum and put them in to bake at 330 degrees. It took about 70 minutes to cook fully. The foil is one of the things I like to do to make sure my cakes rise nice and flat and bake super evenly. Baking them slowly also helps with this. No muffin tops on my cakes to trim off. No sir.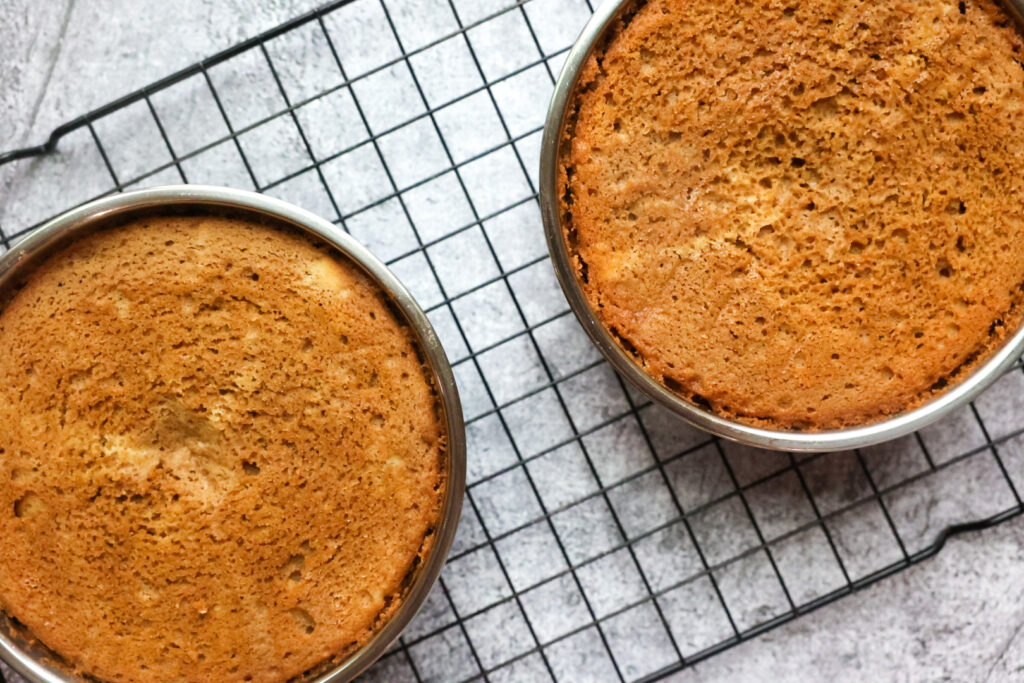 Let them cool for about 10 minutes before you try to remove them from the pans. Let them cool completely on the cooling rack. Personally I like to wrap them in plastic wrap and put them in the freezer until they are frozen. I find it much easier to decorate frozen cakes. Don't worry they thaw really fast.
For the Cream Cheese Frosting
To make the frosting cream together your softened cream cheese and butter until soft and smooth, then add your salt, vanilla extract and cream. Once that is all combined add in your sugar 1 cup at a time. If you are heavy handed with your frosting you will want to double up the recipe. It was just the right amount for me to have just a little left over, maybe 1/4 cup left.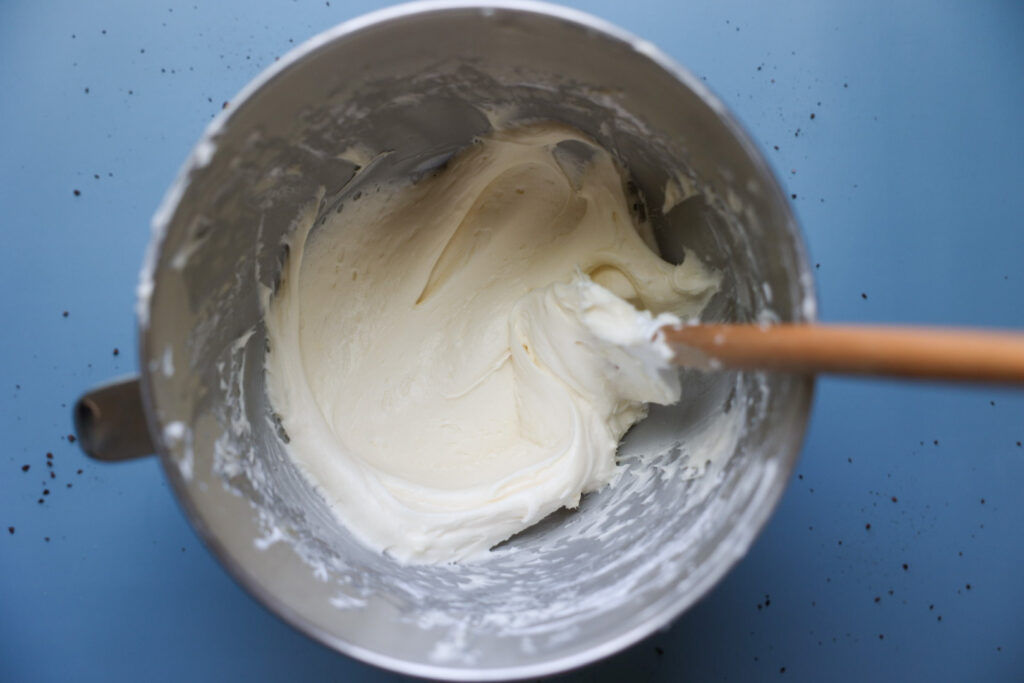 To Assemble the Cake
I gave the cake a crumb coat. Put a dab of frosting on a cake board and set the cake on it. Put a layer of frosting on top of it, and smooth it out. Set your second layer on top and put a thin layer of frosting on, then smooth it out with your offset spatula. Seal all the edges with frosting and put the thinnest layer of frosting on the whole outside to create the crumb coat. Put it in the fridge for about 15 minutes or until the frosting is set.
While the cake is setting in the fridge, add 1/2 tsp of instant coffee granules to the left over frosting if desired and stir to combine. It makes a cute speckled look in the frosting. Cream cheese frosting isn't great for a nice smooth finish or for decorating with, so I felt like the added coffee granules added a little something.
Once the cake is set bring it back out and add your final layer of frosting, smoothing it with your offset spatula and bench scraper. Since cream cheese frosting isn't ideal for decorating, I added the left over frosting to a piping bag with a Wilton 2D tip and added dollops to the top to keep it smooth.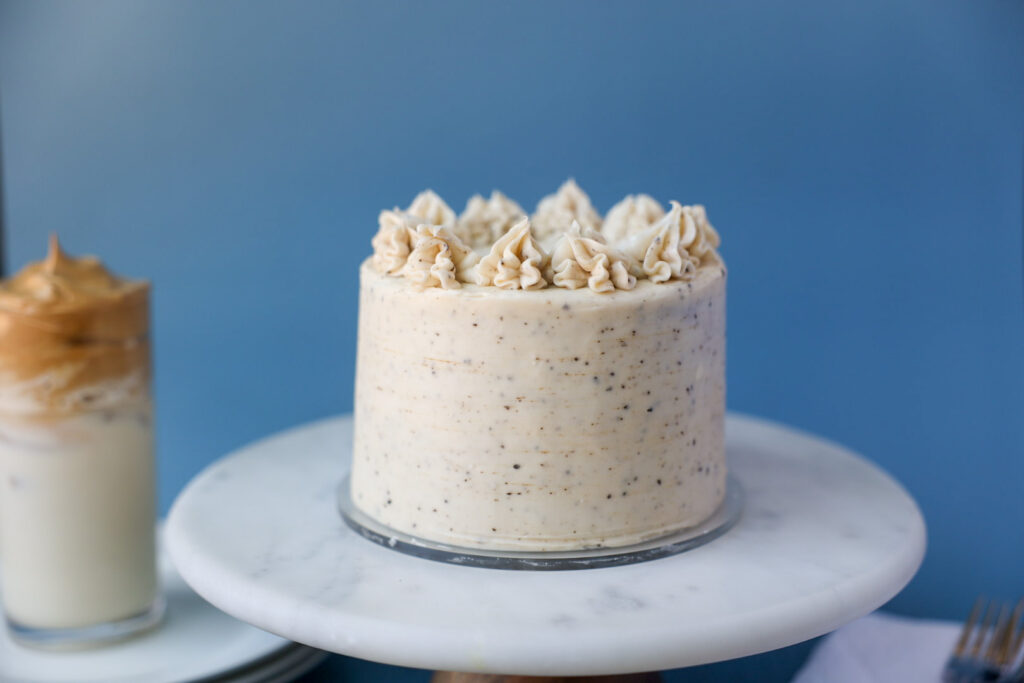 I like to keep cakes in the fridge until ready to serve. If you hate cold cake take them out an hour before you plan to cut it. Cold cake does make it seem more dense. Some people hate that. I don't mind it.
If you have left overs the best way to store it is to cut slices, wrap them in plastic wrap and freeze them. The fridge dries it out if it's not totally sealed in buttercream. The freezer locks in moisture.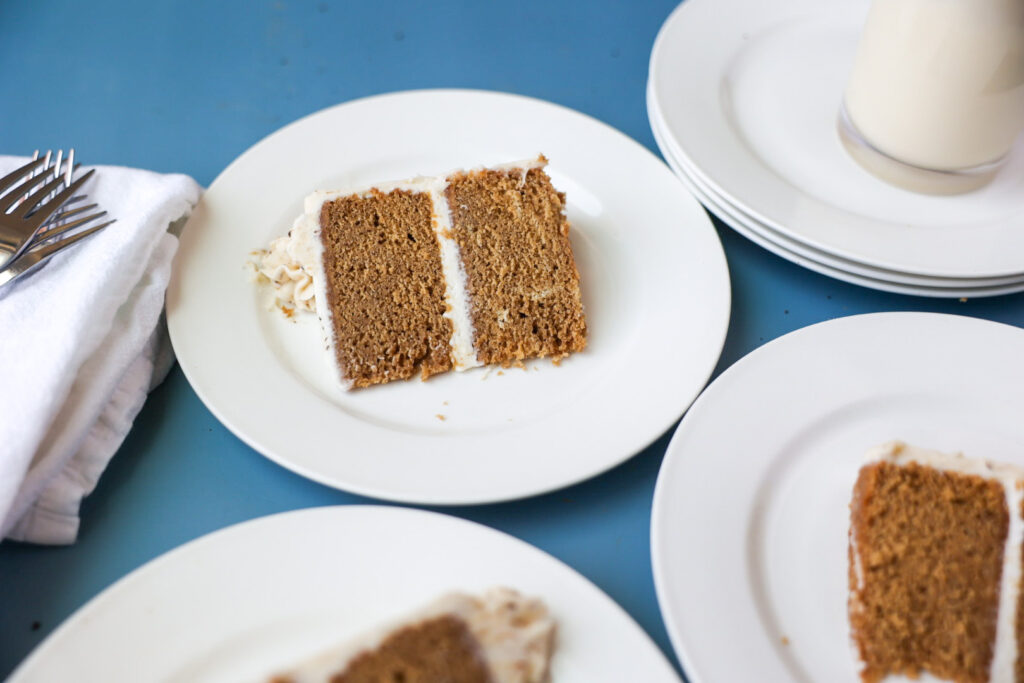 Happy cake making!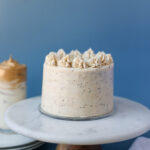 Print Recipe
Dalgona Cake
A petite coffee flavored cake with cream cheese frosting
Equipment
mixer

2 6 inch cake pans

kitchen scale

spatula
Ingredients
215

g

all purpose flour

1/2

tsp

salt

1/2

TBS

baking Powder

315

g

sugar

1/2

cup

butter, softened*

1

egg, room temp**

200

g

buttermilk, room temp**

2

tsp

vanilla extract

2

tsp

instant coffee

for dalgona

2

tsp

sugar

for dalgona

2

tsp

water

for dalgona
Instructions
Dalgona
Make dalgona by placing instant coffee, water, and sugar into the bowl of your mixer fitted with the whisk attachment.

Whip it on high until it has become lighter in color and is pillowy like a meringue. Place it in another bowl and clean your mixer to make the batter.
Cake batter
Preheat your oven to 330 degrees.

Combine your flour, salt, and baking powder in a bowl and set aside.

Combine your room temp buttermilk and vanilla extract in a bowl and set aside.

In your stand mixer fitted with your whisk attachment, whip your butter and sugar until light in color.

Add your room temp egg and mix it to combine.

Add half of the dry ingredients to the mixer on low speed, when combined add 1/2 of the wet ingredients. Repeat.

Scrape down the bowl to make sure everything is incorporated and allow it to mix 10 more seconds. Do not over mix the batter.

Remove the bowl from the stand and add the Dalgona mixture. Fold it into the batter until well combined.

Prepare your cake pans by spraying the edges with non stick spray and add a parchment round to the bottom.

Divide your batter evenly into the cake pans and cover them with aluminum foil.

Bake your cakes at 330 degrees until they are done. A toothpick inserted in the center will come out dry and the edges will start to slightly pull away from the pan. Mine took about 70 minutes.

Once baked remove them to a cooling rack and let them cool for about 10 minutes or until they are cool enough to remove from the pans.

Let cakes cool completely on a cooling rack.

Once cakes are totally cool I recommend wrapping in plastic wrap and freezing to decorate cake from frozen.****

Basic cake assembly is outlined in the above blog post.
Notes
*Butter can be softened by microwaving in short burst, do not melt it, if it melts set it back in the fridge to firm up some
**Eggs can be brought to room temp quicker by placing in warm water
***Buttermilk can be brought to room temp by microwaving
**** When freezing cakes make sure they are set on a flat surface with nothing on top until they are totally frozen, putting them on a flat baking sheet in the freezer works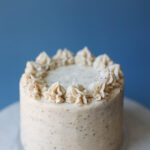 Print Recipe
Cream Cheese frosting, with coffee option
cream cheese frosting made to pair with Dalgona cake
Equipment
mixer

spatula

kitchen scale
Ingredients
2

oz

butter, softened

4

oz

cream cheese, softened

1

tsp

vanilla

1/4

tsp

salt

2

TBS

cream

3

cups

confectioner sugar

1/2

tsp

instant coffee granules, optional
Instructions
Add the softened butter and cream cheese to the mixer fitted with a paddle attachment and cream together until smooth and creamy.

Add the vanilla, salt, and cream to the mixer while on low to combine.

Add one cup of sugar at a time while the mixer is on low.

You can adjust the stiffness of the frosting with more or less sugar.

I crumb coated the cake with plain cream cheese frosting, then added 1/2 tsp of instant coffee granules to the left over cream cheese frosting for the final coat of frosting and decor.